From England's iconic Buckingham Palace to Germany's Disney-like Neuschwanstein Castle, palaces are found in every shape, size, and style all over the world. But which palace is statistically the most beautiful according to science? Using the golden ratio, our experts sought to find out.
The analysis identified the 25 most popular palaces around the world and noted down the dimensions of the front of each residence. Next, our experts compared each palace's measurements to the golden ratio – a mathematical ratio that indicates a balanced and aesthetically pleasing composition.
From this, our experts were able to determine how close the palace's dimensions are to the golden ratio, which is 1.61803398875. In essence, the smaller the percentage difference, the more statistically beautiful the palace.
The top 10 most beautiful palaces worldwide, according to the golden ratio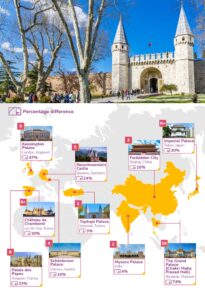 Of the top 10 most beautiful palaces in the world according to the golden ratio, the continents of Asia and Europe are home to five each. Two of the top 10 most beautiful palaces are located in France – Château de Chambord and Palais des Papes – in seventh and eighth place, respectively.
1. Topkapi Palace, Turkey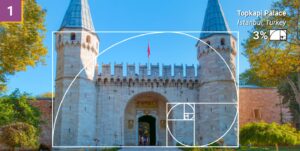 With a height to width ratio working out at 1.572 – just 3% off the golden ratio – Topkapi Palace, found in Istanbul in Turkey is the most statistically beautiful worldwide.
This luxurious palace, surrounded by pavilions, gardens and four courtyards, is the former primary residence of the Turkish royal family between 1478 and 1853. The impressive spectacle, which is now a large museum, is among the UNESCO World Heritage List, so it comes as no surprise that this palace takes the top spot.
Source: https://www.money.co.uk/home-insurance/most-beautiful-palaces