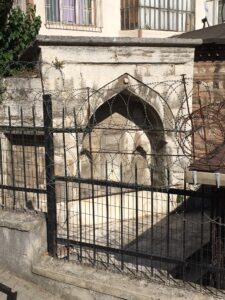 Mimar Sinan Masjid is a mosque located in Fatih.
Named after Mimar Sinan, this masjid is located on the Vatan Avenue side of Akşemseddin Avenue in Fatih district. It is on the left as you descend from Fevzipaşa Street towards Vatan Street.
As of 2011, restoration and landscaping has been done. In 1573, Koca Sinan made it as his own charity. In Tezkiretülbünyan, he describes it as "this is the mosque of the poor". The courtyard door is between the mosque and the minaret. The mosque, which has walls built with one row of cut stone and two rows of bricks, has a rectangular plan and hipped roof.
The masjid consists of two parts, one open and one closed, for summer and winter. There is a playground next to it. The summer section is the L-shaped narthex. The harim windows are two-storied. The muezzin mahfili is in the north and you can reach the women's section from here by iron stairs. The lectern is adjacent to the southeast wall and is wooden. The minaret of the mosque is made of limestone, 10 m high, with a mini-domed, octagonal body, and there is a window on each face of the kiosk type minaret.
When the mosque was demolished in or around the 1970s, it was renovated based on the drawings of Turkish architect and restorer Ali Saim Ülgen, the sketch drawn by Cornelius Gurlitt before 1918, and the 1973 excavations.