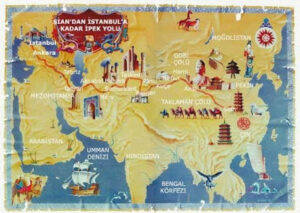 If you search for "Founder Thinker", "Founder Thinker" in our literature, you will not find any publications or references.
However, when you search for "Constituent Assembly" you will find many Constitution books; The 1961 and 1982 Coup Constitutions were prepared by the Constituent Assemblies.
The Political Will is in the Nation, but the Founding Will is in the main opposition party and will be transferred to its original owner, the Nation, with the 2017 Referendum. The Republic does not believe in the Founding power of Thought, it has restricted the freedom of thought for decades. The tutelage holders prevented the country from catching an exit through thought. Synthetic ideas from the west, north and south were presented to the society as a remedy.
However, the founding power of Thought had preceded our States in the past;
Great Hun Imp: 1 (Oguz Khan)
Gokturks: 3 (Tonyukuk, Bilge Kagan, Kultigin)
Karakhanids: 3 (Kaşgarlı Mahmut, Ahmet Yesevi, Yusuf Has Hacib)
Ghaznavids: 1 ( Biruni)
Umayyad/Abbasid: 1 (Abu Hanifah)
Abbasid: 1 (Khorezmi)
Samanoğulları: 1 (Maturidi)
Seljuks: 9 (Farabi, Ebul Hasan Herekani, İbni Sina, Nizamülmülk, Gazzali, Şeyh Edebali, Mevlana, Hacı Bektaş Veli, Yunus Emre)
Turkey's founding references are of Turkestan origin and the references should be revived quickly and alienation from other directions should be ended.
Our references are our Ideas treasures of more than 2000 Thinkers.
Aim; Before the end of the first quarter of the 2000s, to be revived with our Idea treasures, to be loyal by removing their works from oblivion; to reveal the ideas of our ancient thinkers by working day and night like our dervish grandfathers and intellectuals; is to combine yesterday and today in the light of the idea.
"If there is a fight between yesterday and today, we will lose tomorrow" Winston Churchill (1874-1965)
Our first thinker Bilge Tonyukuk was born in 646. The 62 lines in the Tonyukuk Inscription have not been interpreted collectively until today; There is no doctoral dissertation about it.
If we had read and understood Biruni (973-1048); we were in space.
The book, which was published by Biruni in 1030, was published in Turkish only in 2015, after 985 years. Tahkiku ma li`l-Hind: India through Biruni's Eyes
But; Our Idea Vocabulary, which 20 Founding Thinkers simmered, gave way to 2000 Thinkers and 16 States that found their place in the Presidential Forum.
The Founding Will must now be nourished by the Founding Thinkers.
Our Sources of Thought are in Asia, the East; In the direction the light comes from.
It becomes even more important to imprint the Founder 20 Thinkers into memories.
Half of the founding 20 thinkers wrote in verse (poem) format. It is important to focus on this distribution and to make examinations.
20 FOUNDERS REFERENCE
1 + 3 + (2×8) : 20
PLEASE CLICK ON THE NAMES OF THINKERS.
YOU WILL BE DIRECTED TO RELATED TEXTS..
1. VISION:
OGUZ KAGAN, 234-174 (BC)
2. CIRCUIT:
TONYUKUK 646-724
BIGE KAGAN 683-734
CULTIGIN INSCRIPTION 684-731
3. Octagonal 1:
Abu Hanifa 699-767
MUSA EL KHAREZMI 780-850
IMAM MATURIDI 852-944
FARABI 872-951
EL BIRUNI 973-1048
EBU'L HASAN HEREKANI 1000's
Ibn Sina 980-1037
KASHGARLI MAHMUD 1008-1105
4. OCTEG2;
YUSUF HAS HACIB: 1017-1077
NIZAMUL Mulk 1018-1092
GAZALI 1058-1111
AHMET YESEVI 1093-1166
Sheikh Edebali 1206-1326
MEVLANA 1207-1273
HACI BEKTAŞ VELİ 1209-1271
YUNUS EMRE 1240-1321
PROMOTION
Various scientific meetings (symposiums, congresses, etc.) were organized for 14 of our Founding Thinkers, except for Oğuz Kağan, Bilge Tonyukuk, Bilge Kagan, KülTigin, Nizamülmülk and Şeyh Edebali.
Publicly available from 20 Founding Thinkers;
Ahmed Yesevi
Mevlana
Yunus Emre
Haci Bektas
Sheikh Edebali
In this case, it is essential to introduce the other 15 Founding Thinkers. The 5 most well-known Founding Thinkers are all from the most recent periods of the chronology. Before Ahmed Yasawi is not known, unknown.
How do we introduce the unknown?
A vision (Imagination) should be developed and published on the web, and a planning/work program work program should be developed in this regard.
For example, the statues and busts of the Founding Thinkers in universities and in the squares of cities,
They are constantly commemorated with ceremonies,
Making films about them that appeal to mass cinema will reinforce the unity of feelings and recognition, and will enable them to become public property by leaving the narrow academic circle.
Naming Universities, Institutes and Exchange Programs (Biruni University, Ahmet Yesevi University, Bilecik Şeyh Edebali University, Nevşehir Hacı Bektaşi Veli University, Yunus Emre Institute, Farabi Exchange Program, Mevlana Exchange Program)