Türk adının bilim çevrelerince kabul edilen ilk kullanımı MS 1. yüzyılda Pomponius Mela ve Plinius adlı Romalı tarihçilerce kaydedilmiştir. Azak'ın doğusunda yaşayan insanlar Turcae/Tyrcae adı ile kayda geçmiştir. "Türk" sözcüğüne yakın ifadeler Çin kaynaklarında M.Ö. 3. yüzyılda geçmektedir. Bizans kaynaklarında iki tane Türkiye'den (Tourkia) bahsedilmektedir birincisi "batı Türkiye" ki bugünkü Macaristan topraklarıdır.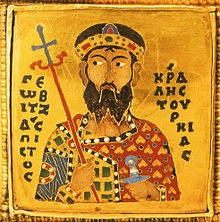 Yavitsas pistos krales Türkiyas
Türkiye'nin Sadık Kralı YagBuca'ya, Geyza'ya.
Kaynak: "Macarların kendilerine verdiği isim Türk idi" Prof Dr Osman Karatay 
"Géza, faithful king of Tourkia, the land of the Turks"
Diğeri ise "doğu Türkiye" ve bugünkü Ukrayna topraklarıdır. Bu devletler Doğu Türkiye olarak bahsedilen Hazar devletidir, 651-983 yılları arasında ağırlıklı olarak Ukrayna'nın tamamını kapsayacak şekilde o topraklarda egemenlik sağlamıştır.
Buradan çıkan diğer bir netice ise batı Türkiye olarak adlandırılan Macaristan, doğu Türkiye olarak adlandırılan Ukrayna ve yine Devlet it Türkiye olarak adlandırılan güney Mısır'daki Türk devletlerinin hepsi Kıpçak Türkleri kökenlidir.
Bizlere unutturulmuş olan tarihimizle ilgili bilgileri tekrar hatırladıkça yeniledikçe gerçeklerin geç de olsa farkına varmaktayız.
Türkiye'ler Kronolojisi
Turcae (Herodot, MÖ500)
Tyrcae (Pomponius, Plinius MS.1.yy)
Tourkia (Khazaria) (Bizans kaynakları) MS 650: "Doğu Türkiye" ismi Bizanslılar tarafından Hazarlara verilmiş bir isim.
Tourkia (Hungary) (Bizans kaynakları) MS 650: "Batı Türkiye" ismi Bizanslılar tarafından Macarlara verilmiş bir isim.
Turchia (MS 1200, İtalyanca)
Devlet it Türkiye (MS.1250 Mısır): "Al-Dawlat al-Turkiyya" (Türkiye Devleti) Memlüklere verilen bir isim.
Tujue (Çince)
"Türkistan" (Farsça)
"Türük el" ismi ise Bilge Kağan Anıtı'nda geçen bir isim.
"Turcarum Imperium" (Türk İmparatorluğu ve türevleri) ismi Avrupalılar tarafından Osmanlı İmparatorluğuna verilmiş bir isim. Osmanlılar bu ismi her ne kadar kullanmasa da 19. yüzyıldan itibaren "Türkiye" ismini kullanmışlardır.
Türkiye (1923)