We used to play hide and seek in Justinian's Palace
Zeynep BİLGEHAN / HEY GIDİ YEARS – Photograph: Selçuk ŞAMİLOĞLU
He spent his childhood playing hide and seek in the ruins of the Byzantine Palace in Sultanahmet. He falls in love with Anatolia during his travels by hitchhiking. Award-winning archaeologist Emeritus Prof. Dr. Mehmet Özdoğan, about his first excavation experiences, said, "My roommates were the skulls we unearthed from an early bronze age cemetery. We would have a lot of love," he says.
We meet in Sultanahmet, which has now become almost a touristic area. prof. Dr. 
Mehmet Ozdogan
says they are one of the few ancient families still living in Sultanahmet. We are in the house where he was born! Özdoğan was born in 1943 as the only child of a mother from Istanbul and a father from Kastamonu. There are three dominant occupations on the mother's side; science, art and bureaucracy… His mother, Mrs. Belkıs, is enrolled in the physics department at Istanbul University because there is a need for students. His father, İhsan Bey, is from a village in Kastamonu. He grows up as an orphan, but with his idealistic teachers and the opportunities of the Republican era, he first studies at a free boarding high school. 
He continues his education in France with a state scholarship. 
Then he enters the physics department of Istanbul University. After getting married to Ms. Belkıs, she comes to the family house built in 1934 instead of a burned down mansion in Sultanahmet.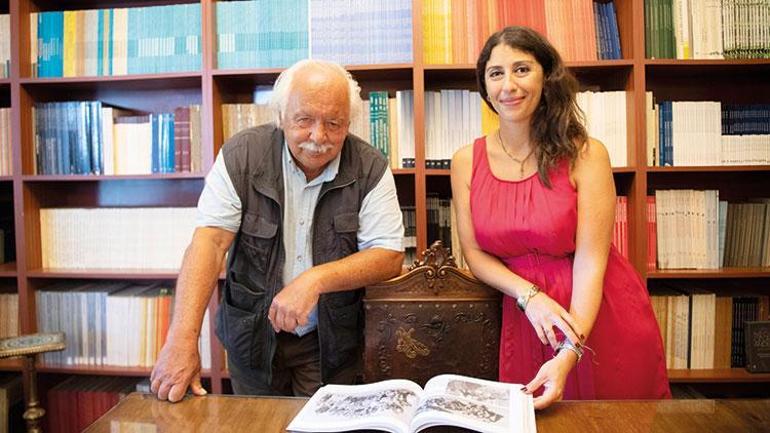 We made a discovery with Emeritus Prof. Dr.Mehmet Özdoğan in the past…
LIFE WAS IN THE STREET…
Both the house and the neighborhood are colorful… However, this is not the case for Mehmet Özdoğan, the only child of the family. "It was a difficult childhood," begins Mehmet Hoca: "Mom, my dad used to leave early in the morning and come back late in the evening. There were no other children in the apartment. When we play with other children at home, my pedagogy professor uncle says, 'Don't make any noise!' she blushed. We went out to the garden, this time my musician uncle was chasing us because the orchestra was playing. Life was on the street. I was not aware that I was on the historical peninsula. We used to play whatever every child played in the street; leapfrog, stop, hide and seek… The opposite apartment is above the Byzantine Palace, but for us it was a hide-and-seek area. Rather than Justinian's Palace, it was the place to watch out for centipedes and snakes while hiding! Sultanahmet was then a well-established neighborhood of Istanbul's upper middle class and bureaucracy. In 1958, the escape began. I remember losing all my friends. It became a neighborhood where people from different places lived."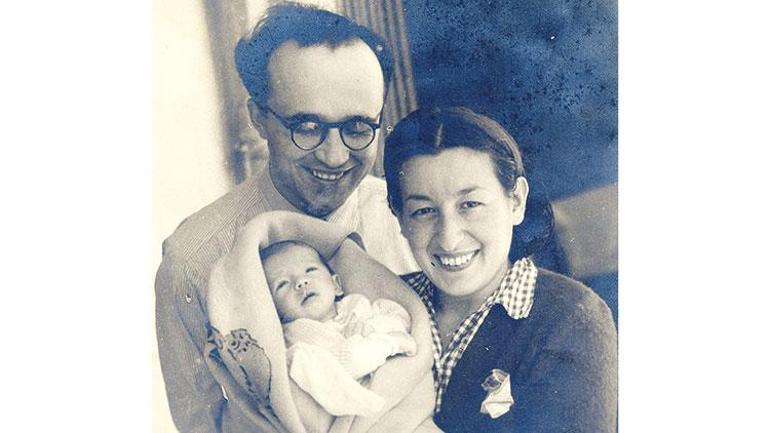 YEARS 1943: With mom and dad…
I WAS THE BLESSING OF THE PHYSICIAN FAMILY
He attended primary school at Sultanahmet Kırkdördüncü Primary School, which operated with the 'trial high school' system of that period. His pedagogue uncle was also the principal of the school. However, this did not protect Özdoğan from harsh education: "All the teachers knew my family, but we were beaten like donkeys! The education was so good that I used to draw a map of Turkey blindfolded in the third grade. Younger generations today do not know how to work with maps." After primary school, he attended English Boys' High School for secondary school. He then moved on to Robert College. His area of ​​interest was not in the lessons but elsewhere… Özdoğan explains: "I was a very bad student… In fact, I failed the physics course as a disgrace to a family of physicists. At that time, I joined the Turkish National Student Federation (TMTF) through a friend of mine. The year was 1960. TMTF was undertaking many social services.I entered the amateur tourist guide course they opened for students. There were no tourists, but we were visiting Istanbul and Anatolia in crowds with the best professors of the universities, just in case they came. I was very active; I used to attend student events and carry banners at marches. Social vitality educated me more than Robert College."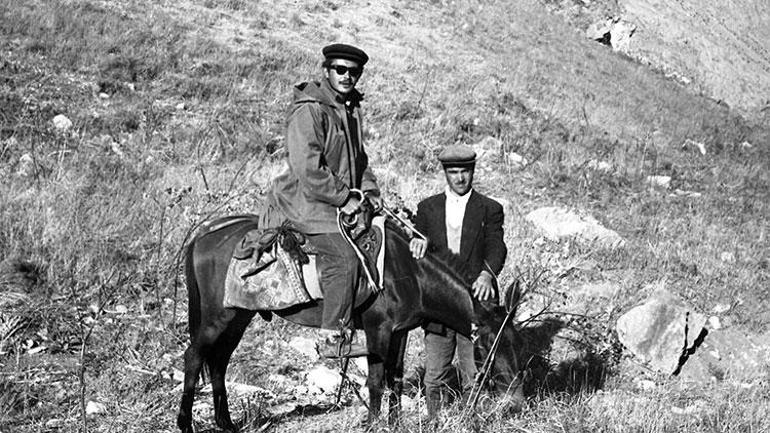 YEARS 1967 : While going to Hakkari Beytülşebbab Square Zoma…
'I CHOOSE ARCHEOLOGY BECAUSE THE REGISTRATION LINE IS LOW'
After 1962, he took up another hobby; Traveling through Anatolia by hitchhiking with a friend in the summer. Hodja continues: "We were jumping in the back of the truck and walking from village to village. In the evenings, it was possible to stay in the houses as guests. These trips made me know Anatolia. Then the hippie movement started and they broke the Anatolian tradition. We stopped a bus in Konya. The uncles in it looked at us and said, 'Look mirim, we always heard it as a tourist, it's the first time we saw someone!' he said. That's all, no one was coming." These travels increased his interest in cultural history. He had three choices in university selection; politics, law, or Archeology. Hodja explains how he chose the field where he will spend his 58 years, "I didn't want to be a district governor. There were a lot of people waiting in front of the law department. I went in when I saw that there was no queue for the archeology record. I couldn't find what I was expecting at first. Then I saw the legendary archaeologist Halet Çambel and was incredibly impressed; personality, the mood of the lectern, the atmosphere."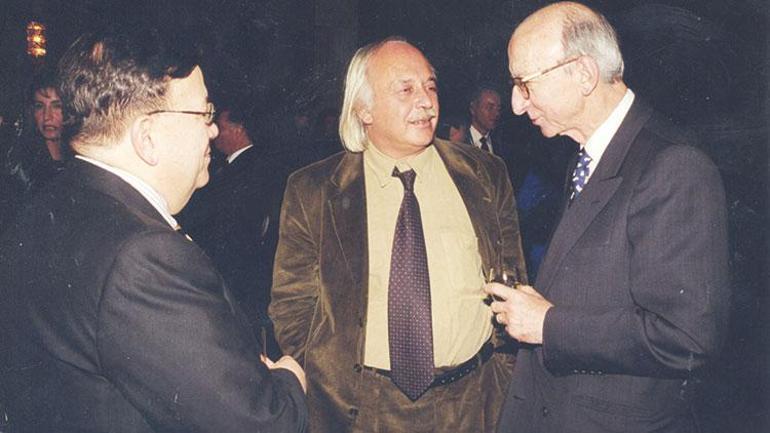 YEARS 1977:  Ali Dinçol and Erdal İnönü on the left at the METU meeting…
MACBETH SCENE AT THE FIRST EXCAVATION SITE!
prof. Dr. How was Özdogan's first excavation experience? He laughs: "The year I entered the school, Halet Çambel, the most famous prehistorian in America, Prof. Dr. He had brought Robert Braidwood to Istanbul. He was studying cultural history together with other disciplines. My first excavation site was in Urfa Bozova and Diyarbakır Ergani. The year was 1964. I took the Kurtalan Express and reached Ergani. The first scene I came across with the sketch in my hand was this: huge cauldron in the bush, an old white-haired woman on her head, boiling animal carcasses! Animal carcasses around… I saw the 'witches of Macbeth'! I thought of running away, wondering where I came from. Then I learned that this person was the famous zoologist Barbara Lawrence. A collection is needed to compare bones from excavations. This did not exist in Turkey, I witnessed the creation process of it…"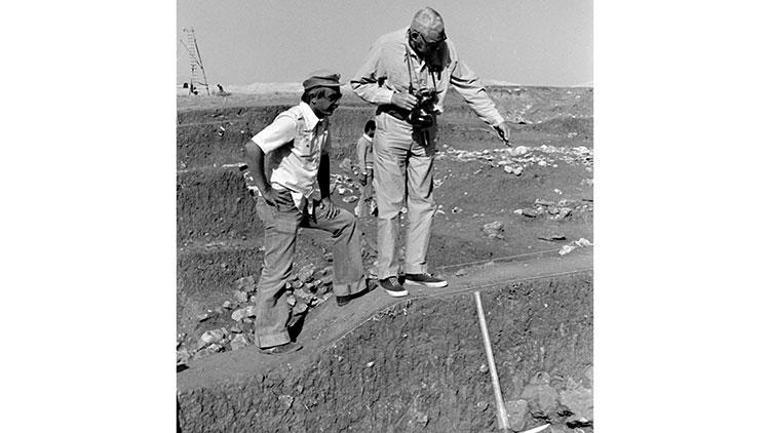 YEARS 1980: Ergani Çayönü excavation, discussing the excavation site with Robert Braiwood…
THE MAN TALKING TO THE SKULL
Mehmet Hoca, who later became friends with many skulls, said, "There was a rich American woman who was donating heavily just to be able to touch something eight thousand years old. Now we were familiar with everything and got used to it," he says, adding: "I used to sleep in a storage warehouse in one of the excavations in Elmalı. My roommates were skulls we dug out of an Early Bronze Age cemetery. We would have a lot of conversation, I would look at them, they would look at me. You know that what you dug out of the ground with your own hands won't bite you. I don't know how many skeletons I've been through. If there were cemeteries like Egypt or China that had not been entered for thousands of years, maybe it would be as exciting as in popular archeology movies. Fortunately, there are no such things in Anatolia, but instead there are ruins that have more real appeal in terms of world civilization history. " And do they not think that the skeletons exhumed from their graves disturb their peace? The answer of Mehmet Hodja is clear: "It does not deteriorate because other graves that come upon it are already disturbing his peace. The water channel took half of the man, the root of the tree pierced the skeleton. The inside of the skull is usually the favorite place of scorpions, they always make a nest there. Therefore, university warehouses are more peaceful."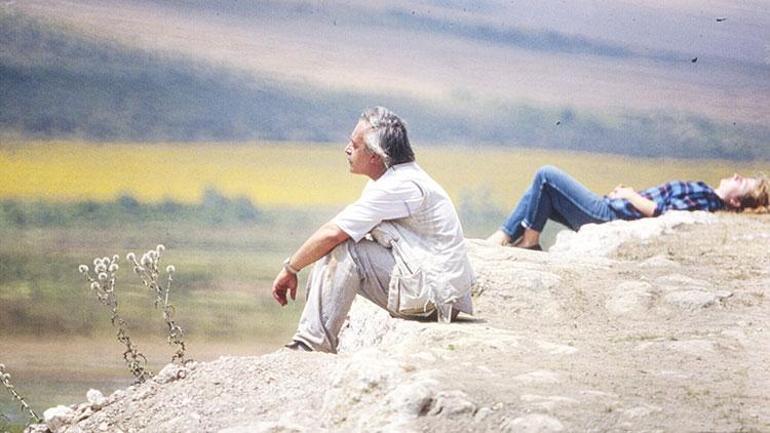 YEARS 1986: Istanbul Yarımburgaz excavation, while resting in front of it
I'M LISTENING TO ANATOLIA WITH MY EYES CLOSED…
prof. Mehmet Özdoğan has made about 30 excavations in his profession, which he started in 1963. He became a professor in 1994, assumed the 'Prehistory Department Head' of Istanbul University in 2000, retired in 2010. Mehmet Hoca, who has trained hundreds of students, received the Turkish Academy of Sciences Service Award in 2001; Vehbi Koç in 2008 for his contributions to the field of prehistoric archeology of the Marmara Region.He was awarded the Contribution to Architecture Award of the Chamber of Architects last year for his publications examining the neolithic architectural formation. His work continues… So why is Anatolia important? Mehmet Hodja answers: "We know that people passed over Anatolia even one million and 200 thousand years ago. 'The foundation of society based on storable products is definitely laid in our Southeast region. After the storable agriculture model is established, concepts such as family, inheritance and property are formed. These will bring the city and the state, that is, the period when the triggers of today's civilization were pulled. There were almost no neolithic excavations in Anatolia when I was a student, but there were about 300 excavations in the countries to our south. Thanks to Halet Çambel, the excavations in Southeast Anatolia and Çatalhöyük revealed that Anatolia should be involved in this work.
'OUR PLACE IN ARCHEOLOGY IS GOOD'
Nearly 130 archaeological excavations were carried out by local and foreign archaeologists in Turkey last year. When the institutional studies are added, this figure reaches 502. Only last year, the number of new artifacts in the 'inventory' that took their place in museums is 6,437. Mehmet Hoca says that the annual number of excavations was around 15-20 when he started:
"The acceleration of archaeological studies in Turkey accelerated after 1968 with the Keban Dam Project. The number of rescue excavations and universities increased, young people were given the opportunity to dig. It has been accepted that the archaeological wealth is not limited to the ruins. Now we have a good place in the field of archeology. Osman Hamdi Bey established a very good system and continued the practices in the early Republican period."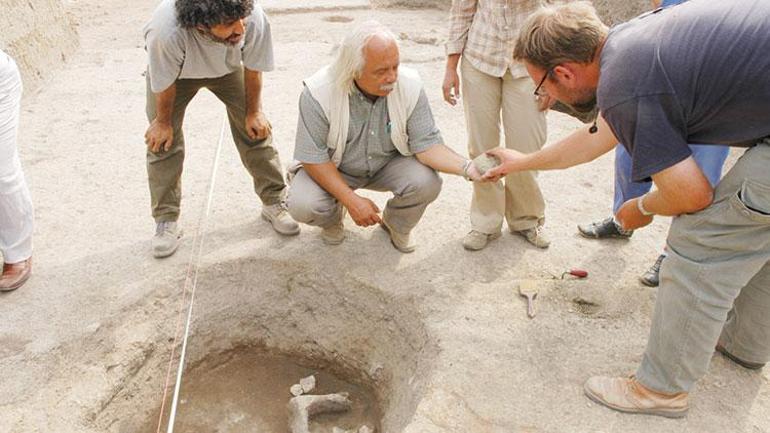 YEAR 2015:  Kırklareli Aşağı Pınar excavation, while examining the finds in the newly found votive pit
HOW DO WE KNOW BY THE BONE THAT LIVES A LIFE?
"When you climb on top of a mound in Anatolia, you know that there are layers of layers under you for eight thousand years… Today, we can reach unimaginable information through laboratory analysis; If it is a bone, did the person grow up in a stressful environment, what did he eat, how long did he breastfeed…"
https://www.hurriyet.com.tr/gundem/justinyenin-sarayinda-saklambac-oynardik-41845650