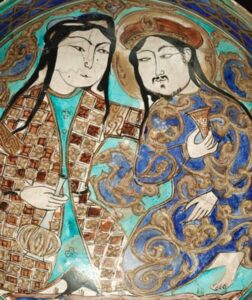 Seljuk Gentlemen Drinking Wine. 12-13th century.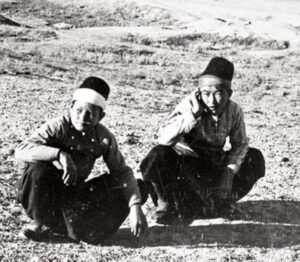 The children of Konya are reflected in their noble appearance and stance, from which they inherited the Seljuk genetics from their ancestors.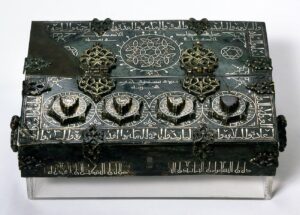 Turkish Seljuk Coded Box. 12-13th century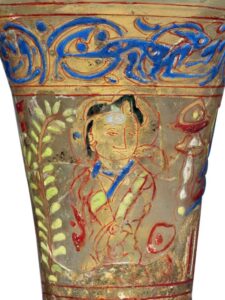 Mammel glass cup. The figure on it is wearing a Turkish Seljuk style headdress.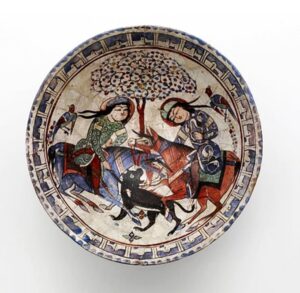 Noble Seljuk gentlemen with long braided hair. They rode the Sky Horse and the Red Horse, they were hunting. Pheasant is widely used in Turkish Seljuk art, especially in Tile art. Seljuk Beys are likened to Pheasant in poems.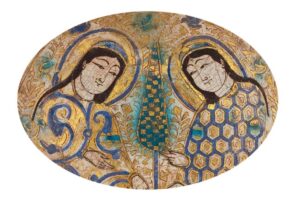 Seljuk couple. Tile Plate. 12-13th century.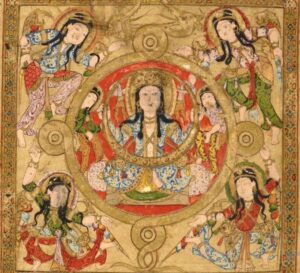 Kitab al-Diryaq, two exquisite miniatures from the Turkish Seljuk Book of Medicine. 1198. Turkish Cosmology thought illustrated. It is 4 directions and 4 planets placed in these directions, expressed by 4 direction angels. The 4 direction angels in Islam are Gabriel, Azrail, Mikail and Israfil.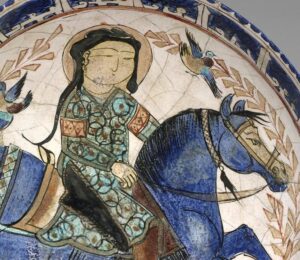 More than 1000 Seljuk plate photos are registered on my Pinterest page. Interested people can follow.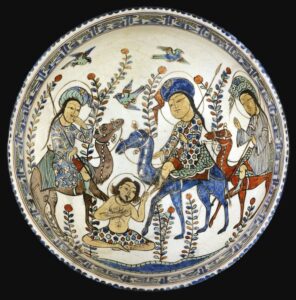 Great Seljuk. A scene from the story of Leyla and Majnun. 12-13th century.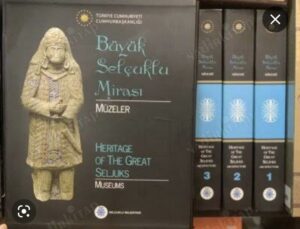 My dear teacher, in the 5-volume work titled Great Seljuk Heritage: Museums, prepared by the Selçuklu Municipality, works in all world museums were photographed. This includes tiles.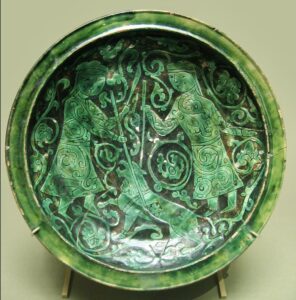 Turkish Seljuk Tile Plate. 12-13. YY. Louvre Museum.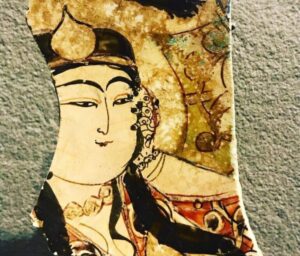 Seljuk Hatun. 12-13th century tile.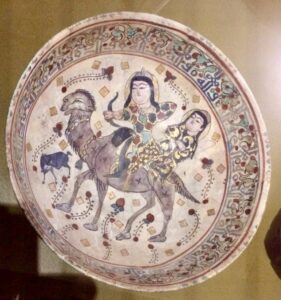 Turkish Seljuk Tile .12-13th century
…………………………………
Şarap İçen Selçuklu Beyleri. 12-13.yy.
Konyalı çocuklar, ataları olan Selçuklu genetiğini miras aldıkları, asil görünüşlerine ve duruşlarına yansımış.
Türk Selçuklu Şifreli Kutu. 12-13.yy
Memluklu cam bardak. Üzerindeki figür Türk Selçuklu tarzı başlık giymiş.
Uzun örgülü saçlı asil Selçuklu beyleri. Gök At ve Kızıl At'a binmişler, avdalar. Sülün, Türk Selçuklu sanatında çok kullanılır, özellikle Çini sanatında. Selçuklu Beyleri şiirlerde Sülüne benzetilir.
Selçuklu Çift. Çini Tabak. 12-13.yy.
Kitab al-Diryaq, Türk Selçuklu Hekimlik Kitabından iki nefis minyatür. 1198. Türk Kozmoloji düşüncesi resimlenmiş. 4 yön melekleri ile ifade edilen, 4 yön ve bu yönlere yerleştirilen 4 gezegendir. 4 yön melekleri İslamda, Cebrail, Azrail, Mikail ve İsrafil'dir.
Pinterest sayfamda 1000'nin üzerinde Selçuklu tabak fotoğrafı kayıtlıdır. İlgilenenler takip edebilir.

Büyük Selçuklu. Leyla ve Mecnun hikayesinden bir sahne. 12-13.yy.
Nuray BİLGİLİ
Sayın hocam Selçuklu Belediyesinin hazırladığı 5 ciltlik Büyük Selçuklu Mirası: Müzeler adlı çalışmada, tüm dünya müzelerindeki eserler fotoğraflanmış. Buna çiniler de dahil.
Türk Selçuklu Çini Tabak. 12-13. yy. Louvre Müzesi.
Selçuklu Hatunu. 12-13.yy Çini.
Türk Selçuklu Çini .12-13.yy
https://twitter.com/search?q=%40NurayBLGL1%20sel%C3%A7uklu&src=typed_query&f=top
Auto Amazon Links: No products found.