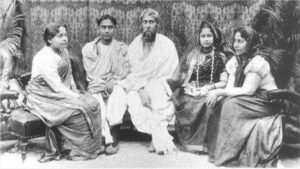 Tagore with his son, two daughters and daughter-in-law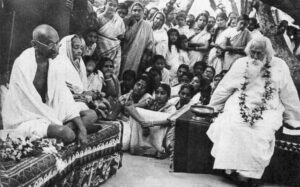 Tagore and Gandhi, 1940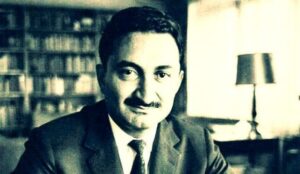 Bülent Ecevit, Turkish Prime Minister and Poet. Bülent ECEVİT (1925-2006)
………………………………………
A country where thought is free from fear is a country that
people upright
the world is not divided by walls
words of your heart
springs from the depths
labor stretches its arms to maturity
river of mind habits
in the dark desert
not withered
what would I know!
my home too
If only there was such a country!
………………………..
"Sit calmly, my heart, do not raise dust. Let the world find its own way to you."
Nobel Prize-winning Indian writer, poet, composer, painter Rabindranath Tagore is a wise poet who brought the song of the East to universality.
The thoughts of Tagore, to whom Atatürk gave books as gifts, Bülent Ecevit's poems translated into Turkish, and inspired by many thinkers from Albert Einstein to Mahatma Gandhi, still reminds today's insensitive world to protect human values, turn pain into love and hope. .
Nobody belongs to us. Philosophy of being yourself
If you cry because you missed the sun, you can't see the stars either.
We will open the gates of joy with the keys of suffering.
Keep in mind the concepts of good and evil, do not let other people's words and actions affect you. Don't let the glamorous artificiality of the modern world spoil you. Live a simple and straight life, enter the palace of the rich and the cottage of the poor with open forehead with peace of mind.
I have spent many hours wrangling between good and evil; but now the friend of my free days likes to draw my heart to himself; I don't understand, what useless bullshit has come for this quick call.
Stars are not afraid of being mistaken for fireflies.
I've learned that happiness has a lot to do with acceptance, and unhappiness has a lot to do with the distance between expectations and life's path.
Being happy is very simple, but living simply is very difficult.
What will you offer him the day death knocks on your door?
You cannot reap the beauty of a flower by plucking its leaves.
A person who plants trees, knowing that he will never be able to sit in its shade, has at least begun to decipher the meaning of life.
Freedom from the bondage of the earth is not a freedom for the tree.
If you can't be the sun, be the star, but be the brightest star in the sky.
I slept, dreamed that life was joy, then I woke up, realizing that life is duty. When I started working, I saw that duty can also be joy.
Man is a Borderline creature living between animal desires and spiritual aspirations. A life adjusted to the wishes of nature alone cannot give him peace.
Hey beauty, see yourself in love, let go of the praise of the mirror.
Sit calmly, my heart, do not raise dust. Let the world find its own way to you.
If science has nothing more valuable than the life of man, the life of man has no value.
The dust of dead words hangs over you. Wash your soul with silence.
Don't get mad at your food just because you don't have an appetite.
Wrong never becomes right by getting stronger.
Faith is a bird that feels the light before dawn.
Every newborn child shows that God has not given up hope on people.
Reach high, the stars lie hidden within you. Dream from the heart, dreams come before your goals.
Seek the grass its crowd in the ground, the tree its solitude in the sky…
The butterfly counts the moments, not the months, and has enough time.
The possible asks the impossible: where do you live? The other answers: my helplessness in dreams.
Without hiding anything, I laid out my life openly. That's why you can't choose me.
Do you want to hide from people, put your life in front of them openly and they will not unravel you!
Turn off the light whenever you want, and I know and love your darkness.
The past is always with us, what was once real never fades.
Bird, let me be a cloud, ah! he says, the wish of the cloud is to be a bird.
A graceful raindrop whispered in Jasmine's ear: always keep me in your heart, please! Jasmine, but I could say, sighed deeply, softly, and then fell to the ground.
…………………………………………….
Sanskrit, which does not exist today, was a language used by the ancient Indian elite. To make an analogy with the Ottoman Empire, it was a kind of Divan Literature language of the ancient Indians and was used only by a narrow circle of clergy and upper castes. From here, it can be said that Sanskrit is the language of literature and culture that appeals to a narrow circle. For this reason, one of the most important branches of ancient Indian Literature was called Sanskrit Literature. For the first time BC. This language, which gave its written works in the first century, lost its importance in parallel with the gradual disappearance of the castes in the millenniums. Today, it is kept alive only by people who are interested in ancient Indian literature.
Ecevit met Dabindranath Tagore at the age of 14. He got to know Indian culture through a poetry book called "Bahçıvan" read by his father. As he read the play "Postane" translated by Sebati Ataman, his interest in Indian literature and philosophy increased even more. While studying at Robert College, he read Tagore's epic Gitanjali, for which he won the Nobel Prize in Literature. He decided to translate Gitanjali, which he read in English, into Turkish. He translated the book into Turkish not in prose, but in the form of poetry.
In 1946, when Ecevit started working as a financial clerk at the London Press Attaché, he devoted his spare time to studying Bengali and Sanskrit. He attended the London School of Oriental and African Studies and took language lessons for a while. His fascination with Indian culture and philosophy grew as he learned Bengali. His teacher of Bengali, Miss. He asked Summers to teach the language by directly starting the translation of Gitanjali. Upon the positive attitude of his teacher, he had the opportunity to translate nine of Tagore's poems while continuing his language education.
The famous Indian epic Bhagavad Gita, which Prime Minister Ecevit talked about during his trip to India and said "the secret of staying in politics for 43 years", tells about a war that took place in an unknown date and in which exactly four million soldiers participated. Ecevit, famous physicist Einstein, German writer Herman Hesse and psychoanalyst. He read and translated the Bhagavad Gita from its Sanskrit original, which deeply influenced names such as Carl Jung.An interesting aspect of the epic is that it defends extremely secular views despite its mystical appearance.
The saga begins like this: "Master Krishna said: In parable, a tree whose roots are up and its branches are down does not perish. These words are like the branches of that tree. He who understands these also understands the knowledge of life.
And some verses from the 15th chapter that probably explain Ecevit's long life in politics and the secret of his resurrection after each fall:
"Sanjaya said: Arjuna threw aside his bow and arrows and collapsed beside the chariot, crushed by the great sadness he was in. His eyes were filled with tears of sadness."
"Master Krishna said: O Arjuna, where did you come from in this moment of crisis that you are in? This is not befitting of an honorable man."
"Master Krishna continued: Ayy Arjuna, do not surrender to defeat. This does not suit you. Get up and wake up…"
……………………………
I'm Going Now
I'm leaving now
My brothers who bid me farewell,
I bow down to all of you.
I await only your final and kind words,
We were neighbors for a long time but
I took more than I could give.
Now the day has dawned,
The lamp that illuminated my dark corner went out,
An invitation has come and I am ready for the road.
Wish me luck on this parting day
my friends,
Don't ask me what to take with me.
Empty hands on my trip
and I'm leaving with a hopeful heart…
(Translation: Bulent Ecevit)
Besides being a politician, Bülent Ecevit, who is a poet, writer and translator, translated Gitanjali into Turkish when he was only 16 years old. Rabindranath Tagore, one of the greatest names in the Bengali language, India and contemporary World Literature, was born on May 7, 1861 in Kolkata.
Those around him called Tagore the Master, while Gandhi hailed him as the Great Guide. He himself adopted the name Kavih, meaning poet, wise. He died on August 7, 1941 in Kolkata, the city where he was born.
……………………………………………..
Bugün yaşamayan Sanskritçe, eski Hint seçkinlerinin kullandığı bir dildi. Osmanlı'dan benzetme yapmak gerekirse, eski Hintliler'in bir tür Divan Edebiyatı dili gibiydi ve yalnızca din adamlarıyla üst kastlar gibi dar bir çevre tarafından kullanılıyordu. Buradan giderek, Sanskritçe'nin dar bir çevreye seslenen edebiyat ve kültür dili olduğu söylenebilir. Bu yüzden de eski Hint Edebiyatı'nın en önemli kollarından biri, Sanskrit Edebiyatı olarak anılıyordu. İlk defa M.Ö. birinci yüzyılda yazılı eserlerini veren bu dil binli yıllarda kastların yavaş yavaş yok olmaya başlamasına paralel olarak önemini yitirdi. Bugün ise sadece eski Hint Edebiyatı'na meraklı kişiler tarafından yaşatılıyor.
Ecevit, Dabindranath Tagore'la 14 yaşında tanıştı. Babasının okuduğu "Bahçıvan" adlı bir şiir kitabıyla Hint kültürünü tanıdı. Sebati Ataman'ın çevirdiği "Postane" adlı piyesini okudukça Hint Edebiyatı ve felsefesine olan ilgisi daha da arttı. Robert Koleji'nde okuduğu dönemde Tagore'un yazdığı ve Nobel Edebiyat Ödülü aldığı destanı Gitanjali'yi okudu. İngilizcesini okuduğu Gitanjali'yi Türkçe'ye çevirmeye karar verdi. Kitabı nesir olarak değil, şiir şeklinde Türkçe'ye aktardı.
1946 yılında Ecevit, Londra Basın Ataşeliği'nde mali kâtip olarak çalışmaya başladığında boş zamanlarını Bengalce ve Sanskritçe öğrenimine ayırdı. London School of Oriental and African Studies'e giderek bir süre dil dersi aldı. Bengalce'yi öğrendikçe Hint kültürü ve felsefesine hayranlığı büsbütün arttı. Bengalce'yi öğreten hocası Miss. Summers'tan dili doğrudan Gitanjali'yi çevirmeye başlatarak öğretmesini istedi. Hocasının olumlu bakması üzerine hem dil öğrenimini sürdürürken, hem de Tagore'un dokuz şiirini çevirme olanağı buldu.
Başbakan Ecevit'in, Hindistan gezisinde dilinden düşürmediği ve "43 yıldır siyasette kalabilmemin sırrı" dediği ünlü Hint destanı Bhagavad Gita, bilinmeyen bir tarihte yaşanan ve tam dört milyon askerin katıldığı bir savaşı anlatıyor. Ecevit, ünlü fizikçi Einstein, Alman yazar Herman Hesse ve psikanalist Carl Jung gibi isimleri de derinden etkileyen Bhagavad Gita'yı Sanskritçe aslından okuyup çevirmiş. Destanın ilginç bir yönü de mistik görünümüne karşın son derece laik görüşleri savunması.
Destan şöyle başlıyor: "Efendi Krişna şöyle dedi: Benzetmek gerekirse kökleri yukarı, dalları aşağı bakan ağaç yok olmaz. Bu sözler de o ağacın dalları gibidir. Bunları anlayan hayatın bilgisini de anlar."   
Ve muhtemelen Ecevit'in siyasetteki uzun ömrünü ve her düşüşten sonra yeniden dirilişinin sırrını açıklayan 15. bölümden bazı dizeler:
"Sanjaya şöyle dedi: Arjuna yayı ile oklarını bir kenara attı ve içinde bulunduğu büyük üzüntünün ezikliği ile savaş arabasının yanına çöktü. Gözleri üzüntüden yaşlarla dolmuştu."
"Efendi Krişna şöyle dedi: Ey Arjuna, şu içinde bulunduğun kriz anında bu görüntün nereden çıktı? Bu yaptığın onurlu insana yakışmıyor." 
"Efendi Krişna şöyle devam etti: Eyy Arjuna, yenilgiye teslim olma. Bu sana yakışmıyor. Kalk ve kendine gel… "       
Kaynak: http://www.milliyet.com.tr/pembenar/ecevit-in-sirri-sanskritce-de-5325151
Bülent Ecevit (çeviren), Gitanjali İlâhiler, https://www.iskultur.com.tr/gitanjali-ilahiler.aspx
Artık Gidiyorum
Artık gidiyorum,
Beni uğurlayan kardeşlerim,
Hepinize eğilerek ayrılıyorum.
Yalnız sizin son ve nazik sözlerinizi bekliyorum,
Uzun zaman komşuluk ettik ama
verebildiğimden çok aldım.
Şimdi gün ağardı,
karanlık köşemi aydınlatan lamba söndü,
Bir davet geldi ve ben yol için hazırım.
Bu ayrılık gününde bana bol şans dileyin
arkadaşlarım,
Beraberimde ne götüreceğimi sormayın.
Seyahatime boş eller
ve ümid eden bir kalple çıkıyorum…
(Çeviri: Bülent Ecevit)
Siyasetçi kimliğinin yanında, şair, yazar, çevirmen olan Bülent Ecevit, Gitanjali'yi henüz 16 yaşındayken Türkçe'ye çevirmiştir. Bengal dilinin, Hindistan'ın ve çağdaş Dünya Edebiyatı'nın en büyük isimlerinden olan Rabindranath Tagore, Kalküta şehrinde 7 Mayıs 1861 yılında dünyaya geldi.
Çevresindekiler Üstad diyorlardı Tagore'ye, Gandhi ise Büyük Kılavuz diye selamlıyordu onu. Kendisi ise şair, bilge anlamına gelen Kavih adını benimsiyordu. 7 Ağustos 1941'de doğduğu şehir Kalküta'da yaşama veda eder.
Düşüncenin korkudan azat olduğu bir ülke bir ülke ki
insanları dimdik
dünya duvarlarla bölünmemiş
kelimeler gönlün
derinliklerinden fışkırır
emek kemale uzatır kollarını
aklın Irmağı alışkanlıkları
karanlık çölünde
kuruyup gitmemiş
ne olurdu tanım !
Benim yurdum da
böyle bir ülke olsa!
………………………..
"Sakin sakin otur yüreğim toz kaldırma.
Bırak, dünya sana gelecek yolu kendisi bulsun."
Nobel ödüllü Hintli yazar, şair, besteci, ressam Rabindranath Tagore, Doğu'nun şarkısını evrenselliğe taşımış bilge bir ozandır.
Atatürk'ün kitaplar hediye ettiği, Bülent Ecevit'in şiirlerini Türkçeye çevirdiği, Albert Einstein'dan Mahatma Gandi'ye kadar pek çok düşünürün ilham bulduğu Tagore'un düşünceleri, günümüzün duyarsız dünyasına, insani değerlere sahip çıkmayı, acıyı sevgiye dönüştürmeyi ve umudu hatırlatıyor hâlâ.
Kimse bize ait değildir
Kendin olabilme felsefesi
Güneşi gözden kaçırdım diye ağlarsan, yıldızları da göremezsin.
Sevincin kapaklarını acıların anahtarları ile açacağız.
İyilik ve kötülük kavramlarını aklından çıkarma, başkalarının sözleri, eylemlere seni etkilemesin. Modern dünyanın gözalıcı yapaylıkları seni bozmasın. Yalın ve düz bir yaşam sür, Zenginin sarayına da, yoksulun kulübesine de gönül rahatlığıyla açık alınla girer.
İyilikle kötülüğün çekiştiği çok saatler geçirdim; ama şimdi boş günlerimin arkadaşı hoşlanıyor kalbimi kendine çekmekten; hangi faydasız saçmalık için gelmiş bu çabuk çağrı, anlamıyorum.
Yıldızlar ateşböceği zannedilmekten korkmazlar.
Mutluluğun kabullenmeyle, mutsuzluğun beklentiler ve hayatın tutturduğu yol arasındaki mesafe ile çok ilgili olduğunu öğrendim.
Mutlu olmak çok basittir ama basit yaşamak çok zordur.
Ölüm kapını çaldığı gün ona ne ikram edeceksin?
Yapraklarını koparmakla güzelliğini toplayamazsınız çiçeğin.
Gölgesinde asla oturamayacağını bilerek ağaçlar diken bir insan, en azından yaşamın anlamını çözmeye başlamıştır.
Toprağın esaretinden kurtulmak ağaç için bir özgürlük değildir.
Güneş olamazsan yıldız ol, ama gökteki en parlak yıldız sen ol.
Uyudum, rüyamda hayatın sevinç olduğunu gördüm, sonra uyandım, hayatın görevl olduğunu anladım. Çalışmaya başladığımda bir de baktım, görev de sevinç olabiliyormuş.
İnsan, hayvansal isteklerle, manevi özlemler arasında yaşayan bir Sınırboyu yaratığıdır. Yalnızca doğa isteklerine göre ayarlanmış hayat ona huzur veremez.
Hey güzellik aşkta gör kendini, aynanın övgüsünü bırak.
Sakin sakin otur yüreğim, toz kaldırma. Bırak, dünya sana gelecek yolu, kendisi bulsun.
Bilim insanın yaşamından daha değerli bir şeyi yoksa insanın yaşamının da bir değeri yoktur.
Ölü sözcüklerin tozu senin üzerine asılı kalıyor. Ruhunu sessizlikle yıka.
İştahın yok diye, yemeğine kızma.
Yanlış, güçlenmekle hiçbir zaman doğru hale gelmez.
İnanç, şafak hala sökmemişken ışığı hisseden bir kuştur.
Her yeni doğan çocuk, tanrının insanlardan umudunu kesmediğini gösterir.
Yükseklere uzan, yıldızlar senin içinde saklı yatıyor. Yürekten hayal et, hedeflerin öncesinde hayaller geliyor.
Çimen topraktaki kalabalığını ara ara, ağaç gökteki yalnızlığını…
Kelebek ayları değil anları sayar ve yeterince de vakti vardır.
Mümkün gayrı mümküne sorar: sen nerede oturursun? Öbürü cevap verir: acizim rüyalarında.
Hiçbir şey saklamadan, hayatımı apaçık önüne serdim. Bu yüzden seçemiyorsun beni.
İnsanlardan saklanmak mı istiyorsunuz, hayatınızı apaçık önlerine serin ve çözemesinler sizi!
İstediğin zaman ışığı söndür, senin karanlığını da tanır ve severim.
Geçmiş her zaman bizimledir, bir zamanlar gerçek olan bir şey asla yok olmaz.
Kuş, bir bulut olayım, ah! diyor, bulutun dileği ise bir kuş olmak.
Zarif bir yağmur damlası fısıldadı yaseminin kulağına: daima yüreğinde tut beni, ne olur! Yasemincik, ama ben diyebildi iç geçirdi derinden, usulca ve sonra toprağa düşüverdi.
…………………………………………………………..
Kaynak Hint Edebiyatı'nın Önemli İsmi Tagore'nin Şiirleri ve Hayatı
http://www.leblebitozu.com/hint-edebiyatinin-onemli-ismi-tagorenin-siirleri-ve-hayati/
https://en.wikiquote.org/wiki/Rabindranath_Tagore