Professor İsmail Hakkı Aydın, who decided to become a neurosurgeon after his primary school teacher became ill and who has done more than 200 scientific studies, and who has TÜBİTAKBİLİM AWARD, started taking lessons from his grandfather, who was a great scholar, from the age of 3 years. He won the Faculty of Medicine when he was the first in the department at the High Islamic Institute, under the influence of his grandfather, who taught the Qur'an, tafsir, hadith, fiqh, Arabic, as well as Latin and Persian. He completed his doctorate and thesis in Zurich with Gazi Yaşargil, who 'opened and closed an era in Neurosurgery'. Aydın, who has performed more than 30,000 surgeries and trained hundreds of doctors in his 40-year career, is also a poet who has 7 poetry books, a musician with more than 100 lyrics, a calligrapher and a writer with over 20 taboos.
The year is 1954, the place is Trabzon, what kind of house was İsmail Hakkı Aydın born in?
The story of our dynasty in Trabzon starts from 1461. My grandfather, Baki, was a commander in the army that conquered Trabzon. He settled in Trabzon with the order of  Fatih and took part in the Islamization and Turkification of Trabzon. He is opening a madrasah and a pharmacy in Trabzon. Because at that time, there were many poisonings  in Trabzon. When fish is eaten with the honey of yellow rhododendron (which is called pitch flower) there is a great poisoning. He's developing an antidote for poisoning. It is called ' Bakioğlu Antidote '. And it still continues today between generations. And until the time of my grandfather's grandfather's father we are called Bakioğulları.  Later, when Mustafa Kemal came to Trabzon with the Surname Law, he  met the founders of Trabzon Defense of Rights Society and called my grandfather because of my grandfather's influence especially in the  National Struggle and Trabzon Defense of Law Society. My grandfather is  known as Hafiz İsmail Hakkı Efendi. Atatürk is expecting for someone with a beard and a turban. But when he sees my grandfather, he says to the governor of the time, 'Give my teacher the surname Aydın' and we are given the surname Aydın.
My grandfather opened a pharmacy ın 1461 in Trabzon. When fish is eaten with the honey of yellow rhododendron, there is a great poisoning. He is developing an antidote. It is also called 'bakioğlu antidote'
From my grandfather, there is a tradition that is always passed from the eldest son to the eldest son. He is building a house in our village. That house passes from the eldest son to the eldest son. And again, he puts a handwritten  Quran in that house  . And it passes from the eldest son to the eldest son. In the time of my grandfather Mustafa, that house was on fire. That Qur'an is also on fire. But then my grandfather Yusuf, my grandfather's grandfather, is building the present house. And he says, let this place pass from the eldest son to the eldest son. But since there is no Quran, my grandfather Yusuf gets a  lithograph of the Quran. And it starts a tradition that Hafizlik will be taught on that Quran. Then it goes to my grandfather İsmail Hakkı. From there to my father Halit. From there to me, and from me to my son Prof. Abdulkadir goes to Cüneyt. And from there, I hope to my grandson Ahmet Bircis… There is such a family.
My grandfather used to read the Quran to me every night since my mother was pregnant.
What effect did your grandfather, whose name you bear, have on you?
My grandfather is my  mentor in every field . He is my teacher. He is my sun. He is my torch. He is my light. Because when my father did not have a child for a few years, then when I was born, my grandfather, says to my father that my father was mufti in Adana at that time. He says , 'You will have another child,  he is mine'. He takes me with him and starts to make me read it. My late grandfather used to call me Abdulkadir, he would not say his own name because his own name was İsmail Hakkı. When my mother was pregnant, he used to read the Quran every night next to my mother. And he would read Kaside-i Bürde. Later on, I always read it when I was a kid. I used to go to bed every night and my grandfather would read it. I know that book by heart even though I've never picked it up .
At the age of 3, he takes me with him and starts the Quran. And 4 years old makes  me read from beginning to end. He sends me to school at the age of 5. And when I went to school at the age of 5, I was reading, writing and memorizing both the Republic Turkish and the Koran or Ottoman Turkish. My deceased grandfather had already  introduced me to Arabic. Of course they trembled on me. You have to accept it too. Because my grandfather equipped me with all the sciences. Let me put it this way,  I was a trainee doctor and I was still reading tafsir with my grandfather. So he never left me. I still live my life within the framework in which he trained, taught and disciplined me.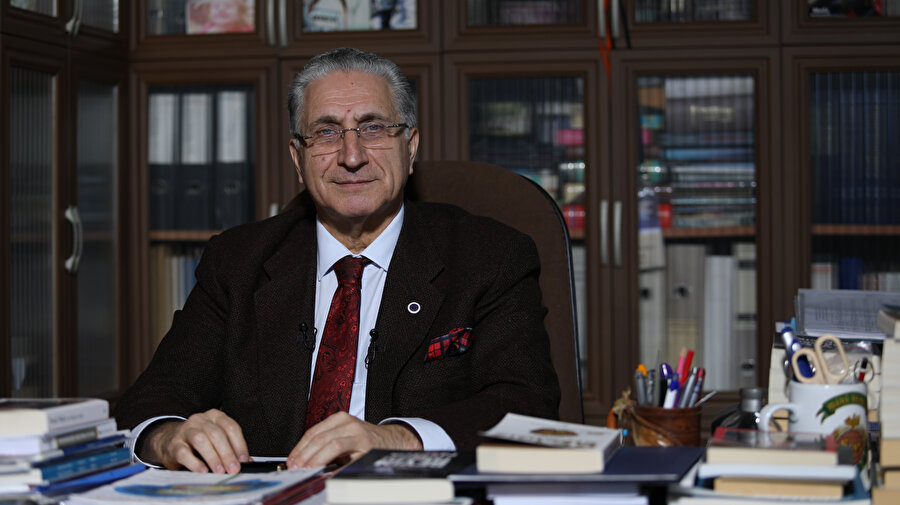 My Grandfather is My Teacher of The Qur'an, Tafsir, Hadith, Fiqh and Arabıc. My Father is My Teacher in Islamic Law, Feraiz, Calligraphy and French.
You start to receive your Islamic education at a young age, but I think you want to be a neurosurgeon since your primary school years. Is that so?
In fact, my deceased grandfather used to say, 'My son, you will become Imam-i Azam'. He raised me that way. My grandfather is my teacher of the Quran, tafsir, hadith, fiqh and Arabic. My father is my teacher in Islamic law, feraiz, calligraphy and French. My rhetoric teacher is my father. There was also the mufti of Trabzon,  Abbas Hacı Efendioğlu, he is my teacher of theology.  There is a teacher Mustafa Kaygusuz, he is my teacher of tafsir.  I had a teacher Hasan Çavuşoğlu  and he is my teacher Feraiz. He is my fiqh teacher. So I read from different teachers. For example, my music teacher  is Tahir Karagöz .
By the way, it is interesting, he makes me  read tajweed. As you know, tajweed is an important branch of science for reading the Quran well and recitation. How are you going to teach a 4-year-old, 3-year-old child, here's tajweed? But my late grandfather used to say to me, for example, 'ulaaaa Ismail'. This is  Meddi Munfasil. Or he used to say 'here to the village'. Ikhva . This is how he taught. Meanwhile, I started Arabic. Emsile, I'm  reading Bina. And when I go to school, we study in one class. Meanwhile, my father, the Mufti of Akcaabat, did not take me to school in the city. Because I'm 5 years old. My grandfather sent me to school in the village. At that time, all the 1st, 2nd, 3rd, 4th grades and 5th grades in a single class in the village.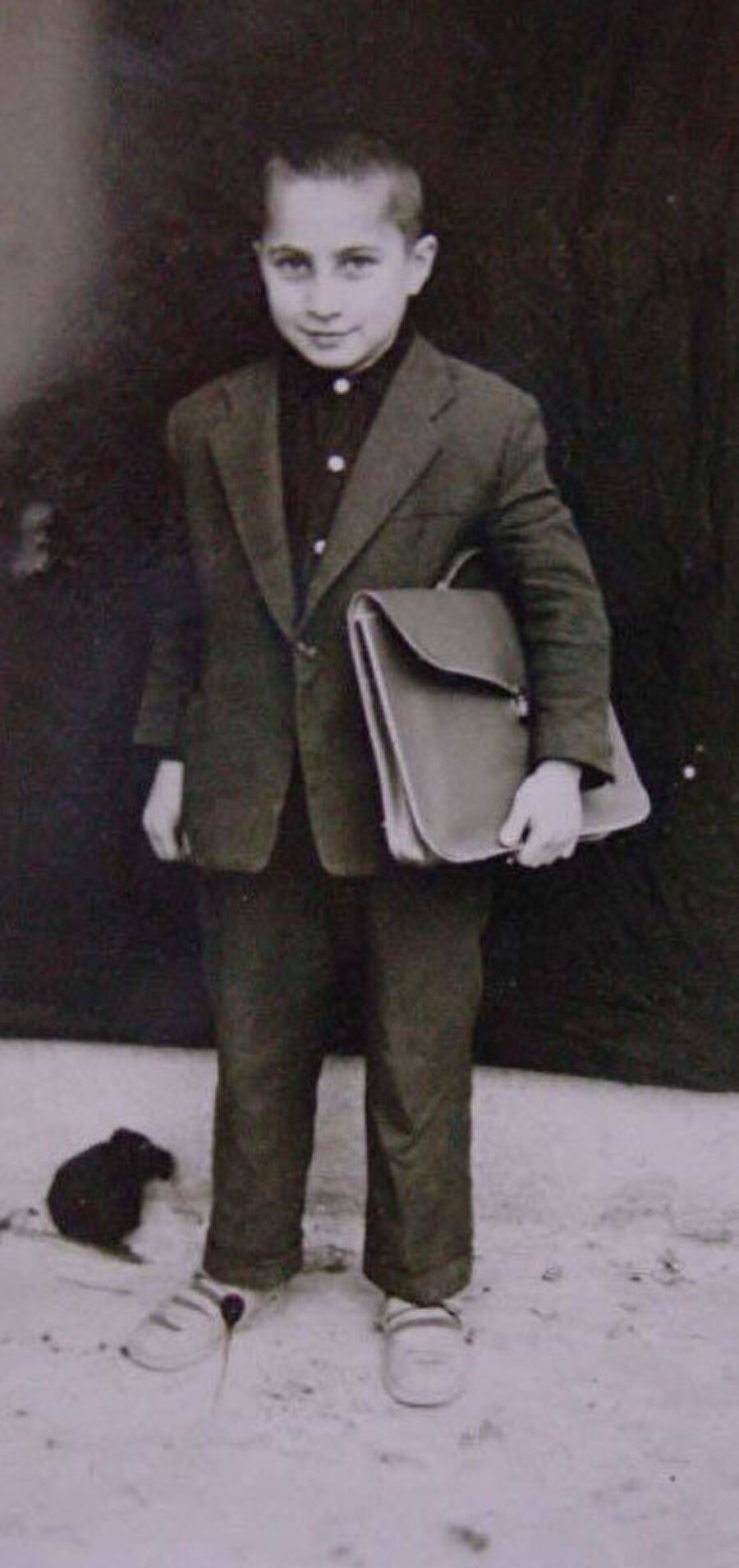 And we have a teacher named Murat Özdemir . Then we call it teacher. I'm the youngest in the school, the class. There are married children in our class, there were even those who had children. Meanwhile, Murat teacher is asking a question to the 5th graders. No 5th graders can answer. I also involuntarily raise a finger. Meanwhile, teacher Murat said to me, "Do you know İsmail Hakkı? "I know, teacher," I said. "Get up, let me see", he lifted me to the board. I told it on the board. "Good job," he said to me, "why are you sitting there?" He took me by the arm and made me sit in the 5th grade. So, I loved it, of course, a 5-year-old boy, you are being honored. And I started to like the teacher very much.
Then 1-2 months passed, Murat teacher keeps saying ' I have a headache , I have a headache, I have a headache'. Then they said, ' Murat teacher has a tumor in his brain. And there is no neurosurgeon in Turkey to operate on him. And Murat teacher will die'. Of course my world was destroyed. I cry at night, my mother says "Why are you crying son?". I say "Murat teacher will die" or something. I said "I will be a neurosurgeon". Even then, I didn't even know what it took to be a doctor to be a neurosurgeon.  Then I said to my grandfather, "Grandpa, I'm going  to be a neurosurgeon. I said, "I will not be Imam-i Azam, Imam-i Azam." Then my grandfather was also in Maçka. Imam of Maçka Central Mosque. At the same time, he teaches the teacher, that is, the student. Many muftis trained preachers. He has many students, my father is also a teacher, he also teaches students. He also said, "Son, especially if you are a doctor, then we'll see." That's when I realized that I had to be a doctor first.  Then a campaign was started for Murat teacher. He was a good-natured urdu from. He had surgery.
I started signing 'professor' when I was in middle school.
While you are studying in secondary school, you make up your mind to be a professor, you even put your signature that way, right?
When I started secondary school in Trabzon. There was, and still is, a bookstore called Akademi Kitabevi. One day I looked over there and saw a tall, curly haired man with books under his arm. "Who?" I said "this". He mixes the books… They said, "This is the university", then the university was just opened,  Karadeniz Technical University. "Assistant at the Technical University," they said. "What do you mean assistant?" I said, I'm in the middle first year. They said, "This will be the big man". "This," they said, " will be a professor". "What do you mean professor?" I said. They said, "A very great man means a great scholar". Then there was İsmail Hakkı Bey at Trabzon High School. Geography teacher İsmail Hakkı Bey is very popular. I love him too, because his name is İsmail Hakkı. Currently, there are  14 İsmail Hakkı in our family. I'll tell him too. Then I said, "Is it going to be bigger than İsmail Hakkı Bey?". They said, "Of course, my dear İsmail Hakkı Bey will be much bigger". I said, " Then I will be a professor ". And to my notebooks, my books, I started writing as Prof. Dr. İsmail Hakkı Aydın.
How did people react to you when you got into medical school as the 'Mufti's Son'?
At that time,  there were 4 medical faculties in Turkey. Istanbul, Ankara, Izmir and Erzurum. It is very difficult to get into medical school then. Because if I remember correctly, 500-600 people are taken in total. When you win, of course, everyone hears it. When I got into medical school, my father received huge congratulations. From the Governor to the Garrison Commander, from the District Governor to the Mayor. Even while walking on the street, it was said that 'the mufti's son won the medical school'. The reputation of a medical student at that time does  not belong  to a medical professor today.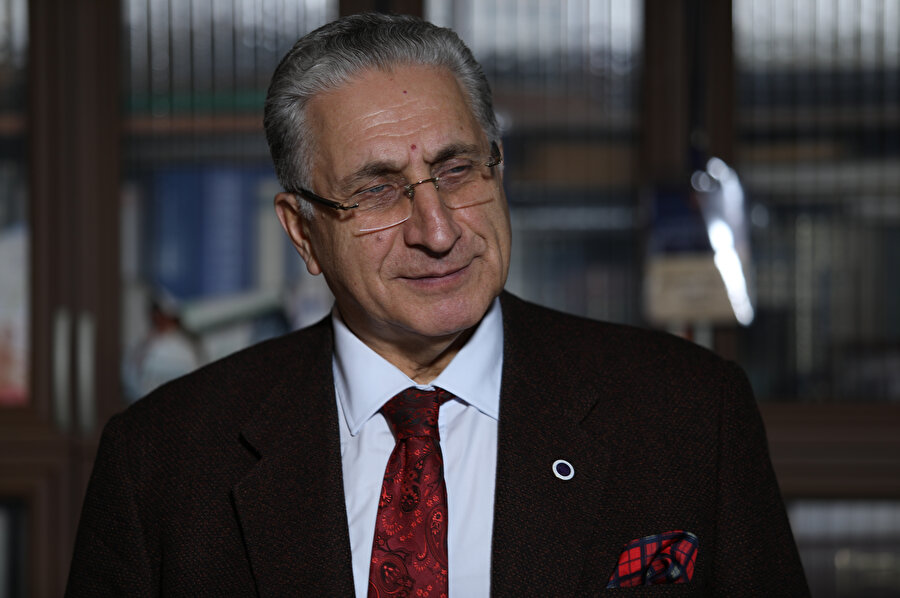 You are starting the Faculty of Medicine in Erzurum, but at that time you also had the first place in High Islam, right?
Yes, it actually happened like this; I  graduated from Trabzon Imam Hatip High School with a 7th grade from the bottom. I graduated by giving 2 years to one. And that year I think of Istanbul for High Islam. My father also thinks about Istanbul. Then my deceased grandfather said, " No, you will go to Erzurum ". I have no idea, I don't want to go to Erzurum. And my late grandfather gave me a very important instruction. He said, "Erzurum, where many scholars and guardians grew up, will introduce you to the world. And you will open up to the world from there." "No one will be able to stand in your way," he said. Of course, I am very attached to my grandfather. And I said, "Okay, grandpa" without bias. And I entered.
Yes, I won first place  and we could not enter the university that year,  imam hatip high school graduates were not admitted to the university. It was necessary to give high school differences. The following year, I got a degree  in the intercollegiate exam. And then, 'Shall I enter Hacettepe or Cerrahpaşa?' My grandfather said "No" again. He said, "You will continue both, Erzurum again." And we registered with Atatürk University Faculty of Medicine to continue both. And the two continued together. And again, I  finished it with honor as well. My grandfather has always been my light somewhere. And I did nothing without his permission.
You want to attend two faculties, but they are complaining about you. Do I know right?
Yes true. I  was also first in the Islamic Institute. Also in the Faculty of Medicine. According to the law at the time,  it was a crime to attend two faculties . Forbidden. Even then, may God have mercy on him, Erzurum Governor Necmettin Karaduman, I'm going to him, I ask him for help. It's also interesting, he gathers all the department managers. He says, then I was 17 years old. They even asked for my father's signature while registering me, so they didn't register without his signature. It is not possible for my father to come. I made a phone call, sent a telegram from Trabzon on behalf of my father, and it was recorded that way. Here's 'I consent to my son's recording' he said.
That's when Necmettin Karaduman says, "Look, you haven't studied a faculty", it means that there are those who don't… "He is studying two faculties. The law prevents him, too," he says. Then the Director of the High Islamic Institute, may Allah bless you  Prof. Dr. Mustafa Cevat Aksit. Then he's doing his doctorate. He is both a law graduate and a graduate of High Islam. And he is the director of our Islamic Institute. At that time, the Islamic Institute was subordinate to the Ministry of National Education. At that time, there was no such thing as YÖK. It's an institute, not a university. He doesn't want it either, he tells me 'you will become Imam-i Azam'. He also said, " It is not legally possible ". Because it is forbidden to attend two faculties at the same time. Of course it's possible now. We had to leave the Islamic Institute. But I never broke my heart or I never gave up my ties to books.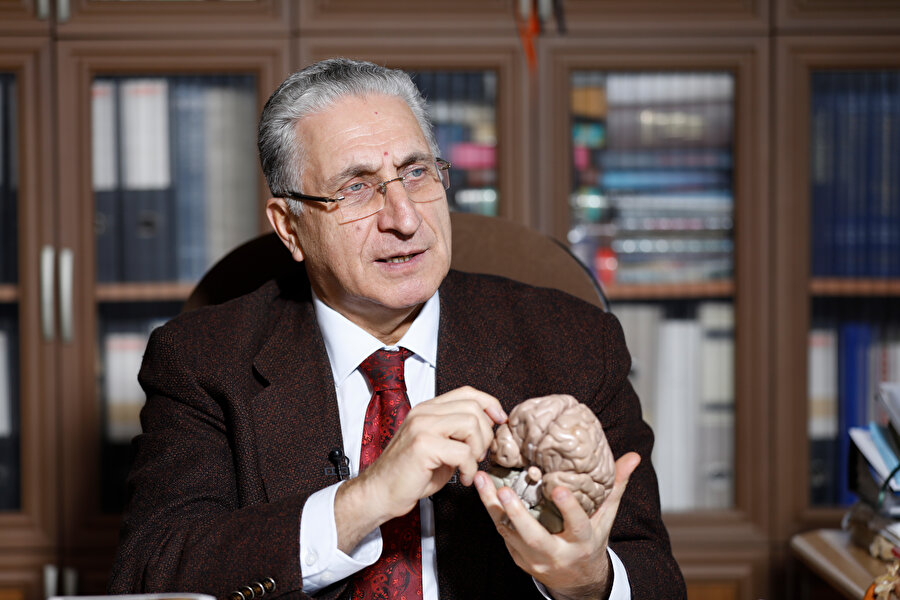 I WAS ALSO FIRST IN THE ISLAMIC INSTITUTE. ALSO IN THE FACULTY OF MEDICINE. ACCORDING TO THE LAW AT THE TIME, IT WAS A CRIME TO ATTEND TWO FACULTIES. WE HAD TO LEAVE THE ISLAMIC INSTITUTE.
Your father, the mufti, has an interesting story of dismissal, right?
My father is a very modern person.  He  is a very modern person who always wore starched shirts, ties, cufflinked shirts and suits in 1954. Of course,  such a mufti  seems very modern for that time. And  since my father had all my brothers read, including my sisters, it is considered a bit modern.  Trabzon's Maçka district was known as Little Moscow at that time. In Maçka, the CHP is then considered to be the right-wing party. In fact, I think Turkey's first  TSIP  mayor was elected in Maçka. It has such a structure. And the  Maoists-Leninists at that time, they divided Maçka into two. He is interesting. The mosque was bordered. But of course, the school will be built, the road will be built, my father is always ahead. Here, a health center will be built, all the schools are built, and Trabzon's KATU is also very much pioneered by my father. Roads, health centers, here the Girls' Art Institute will be built. In all of them, the school is always in the family union. He is always a leading man. And my father does not discriminate against anyone. He has been a mufti for 40-50 years in the Presidency of Religious Affairs. And he always reconciled the Maoists and the Leninists. He used to advise me not to fight.
There is another very interesting story of my father, who passed away. I want to tell him too. Esiroğlu  is the township of our village. A small town. My father wants to open a secondary school there. But the Ministry of National Education does not allow it. The Minister of National Education of the time comes to Trabzon and I think he will go to the opening of a high school in Gümüşhane. When my father hears this, he gathers all the villagers  and blocks the road  there. My father throws a chair in the middle of the road, it blocks the way. People are blocking the road. The governor knows my father. The governor gets down and sees that the mufti has blocked the road. "What?" says the Minister, the Minister of National Education. "Well," he says, "the mufti blocked the way". "And how does a civil servant block the road? Suspend him immediately," says the Governor. The governor also says, " Here you go, take it .". He knows because he knows my father, so he won't let go of his shoes that easily…
Coming down, Minister, Orhan Oğuz, if I'm not mistaken. He says "What do you want?". "You," he says, "are a civil servant. Don't you know it's a crime?" "As a civil servant, I do not block roads. As Halit Aydın, son of İsmail Hakkı, from Kaynarca village in Maçka district of Trabzon province, I am blocking the road ." It seems that the man is not listening at all. He says, "Okay," and of course the Minister thinks that he will build a Qur'an Course and a mosque there. "So, what do you want?" says. He says, "I want middle school". He is surprised, he says, "Oh my teacher, you know that there is no secondary school in 60 percent of Turkey's districts. You want a secondary school in the township. Moreover, there is no secondary school building". My father said, "I promise you. I do the building" says. The Minister says, "I will allow it immediately when I return to Ankara". My father says, "No, there is a post office there". My father set it up too. Then there are magneto phones. He says, "You will phone the Ministry right away, give instructions to your undersecretary by telegraph order, and the Governor is here." The minister looks at it, there is no salvation, he says "Okay". They pass by the post office immediately, and the Minister calls Ankara with a magneto phone, instructing his undersecretary that 'Trabzon Esiroğlu township has been granted secondary school permission '. This is how he takes it. They get in the car, a telegram order comes. They are going up to Mount Zigana, where a group blocked the way. The minister said, "What do they want at the top of the mountain". My father said, "Mr. Minister, if you had escaped from there, we would  have cut it here ". It has such a story…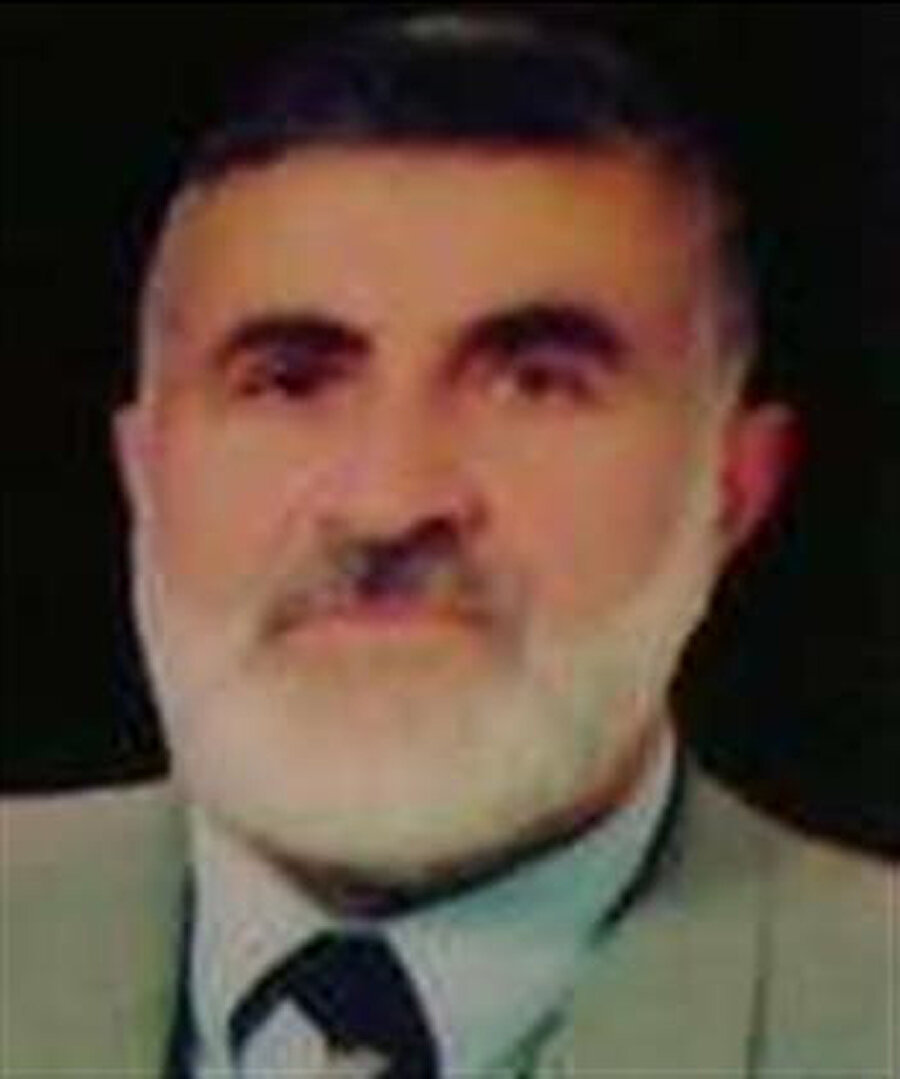 And then  in 1974, a politician comes to Maçka and asks my father a political question. "How is the party's work?" saying. My father is also very stern. "This is the party headquarters," he says. "You will go there. This is the mufti. You can't ask such a question here," and of course the man gets upset. The governor is there, all the elders are there…   They are exiling my father by order of the wire. At that time, Ecevit was the Prime Minister. Then they rent 7-8 buses from Ulusoy. Maoists and Leninists go to Ankara, they go to Ecevit, where 'we do not give our mufti'. At that time, it was reported in the press that "The only thing that the Maoists and Leninists agree on in Maçka is to stop the appointment of the mufti." Then  they stop my father's appointment. It has such a story.
Currently, there are 15 academics in my grandfather's house, at least 2 languages ​​are known.
I guess there is a foreign language tradition in your family?
Yes, that's right, my  Latin teacher, my Persian teacher is my grandfather. My Arabic teacher is my grandfather. My grandfather knew Latin, Arabic, Persian and Greek.  My father knew French, English, Arabic and Persian. In our house,  there are 15 academics in my grandfather's house right now. And everyone knows at least  2 languages. The deceased acted a little more torpedo for me. Because I have passed his rahle-i teaching. He memorized the preface of his masnavi from Persian.  Be it from Sadi, from Hafiz, from Khayyam or from Ferdowsi… He made me memorize many of Muallakatü's Seba. This tradition continues at our house. I hope our children will continue.
Your father's nickname is 'communist mufti'.
In fact, my late grandfather used to say 'read whatever you can find', my father used to say 'write'. They said read and write. During the time of  martial law, Chingiz Aitmatov had a book called ' White Ship '. He was banned. But I am a person who reads it all. I am a scientist after all. I have them all in my library, I mean, there are also communist books. There is also a rightist, there is also Adolf Hitler's book. Saidi Nursi also has it. Translations too. All translations are available. I have English resources. There is Shakespeare, there is Balzac, there is Goethe. But in the meantime, here we are caught, the White Ship. They come from being banned and  communist and arrest us . After that, when I say court, it's a long story. The judge is still alive and my friend. But he doesn't know he punished me. We are still talking. He is old, of course, may God give him long life. We are very friendly. I'm not telling him so he won't be upset  . They took us to court. He says "Did you read this?" "I read" I say. He says "Why are you reading". "I am a scientist, so I read them all," I say. "Go do your own surgery," he says. "Don't bother with such things". " Write him, 6 months in prison "…
And we received this punishment for establishing a Marxist-Leninist state . We have it in our registry. I think it continued until 1990, then it was withdrawn from the registry amnesty. Even when I received the TÜBİTAK award, I was asked 'Where did this come from, is it a Mason, is it a CIA agent, is it an FBI agent or is it a MOSSAD agent?' There were also such words. During the 1980 revolution, I always wrote in security investigations that 'I have a suspended sentence of 6 months for establishing a Marxist-Leninist state'. I have such a story.
CHINGIZ AITMATOV HAD A BOOK CALLED 'THE WHITE SHIP'. HE WAS BANNED. CAUGHT IN MY HOUSE. AND I WAS PUNISHED FOR FOUNDING A MARXIST-LENINIST STATE.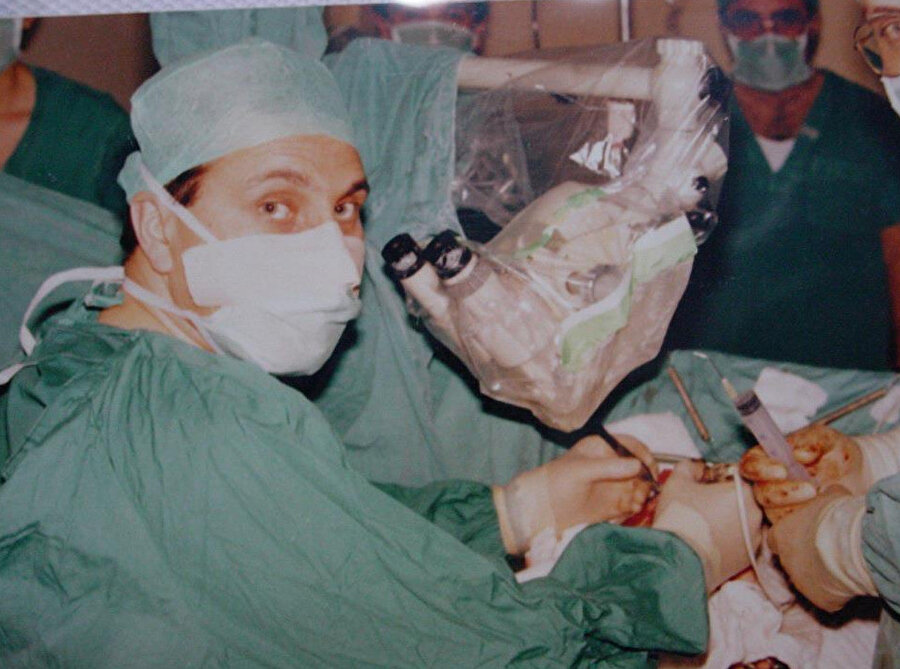 When you graduate from medical school, you become a doctor in a health center, but you have in mind to become a neurosurgeon. How did the process develop?
Let me put it this way, our professors are general surgeons. They performed neurosurgery on general surgery. Of course, when we started the faculty, it was not a chair of  neurosurgery, rather it was in general surgery. Even when we started the faculty, when my friends were saying 'I will be a gynecologist, I will be a pediatrician, I will be an internist', I was saying 'I will be a neurosurgeon'. 'They were saying, ' There is no such branch as neurosurgeon .' But of course we started in Erzurum. We looked there with blinders. We got wider when entered at Çapa Medical Faculty. There, of course, I have to admit that Bulent Tercan, Umur Kaya. Our teacher Hüsamettin Kerim Gökay, as well as Beyhan Özden, Kıraç Türker, İnan Turan Tan, may God have mercy on him. These were our elder brothers. Of course we learned a lot from them. But in the meantime, we  saw  that there is a phenomenon called Yaşargil in the world at the University of Zurich, which is the campuse of neurosurgery. And we looked for ways to get there. And then there we went. I did my doctoral thesis there. Such an adventure.
Neurosurgery is a cult that never ends
What does neurosurgery mean to you?
Neurosurgery is very valuable to me because I see neurosurgery as a cult. Neurosurgery is a cult whose ordeal never ends. Because we still read, the brain, because it  is a divine particle. It is a divine miracle. Dealing with brain is a great  blessing. It is a gift of God, it is a grace. Because God does not grant this to everyone, He does not give grace. If I have a thousand lives, each of which is a thousand years, I am ready to spend a thousand on neurosurgery. Because astrophysicists in the world deal with stars and planets, but none of them can touch the planet. They just look through telescopes. Genetic engineers, young people, deal with genes and genomes. They mess with the chromosome, but none of them can pick up the gene.
I thank my Lord for granting us the privilege of touching such a precious, and infallible memory, the human brain, which has a greater capacity than the universe, which is 500 billion light-years in diameter. And I think neurosurgery is very important and its ordeal is never-ending… Because you know, there is an ordeal in sects. You have to complete that ordeal. And the ordeal of the neurosurgeon cult never ends. Of course, it's  pole time too, let's say that in today's mystical terms;  He is Gazi Yaşargil . Turkish medicine  in the world right now is in a very good place. Turkish Neurosurgery is above world standards. We owe this to our scholar Gazi Yaşargil. We owe some to the megalomania of neurosurgeons. I have to express it here too.
Is it true that you did your first surgery on your neighbor's chicken?
Aaa, you have always learned these. Now I decided to operate Murat teacher, I am  5 and a half 6 years old.  'Let me kill a chicken,' I said, 'let this be an experience for me'. And may God have mercy on us, we call it Veli Emice as we call it, Uncle Alaaddin.  I caught a  chicken of his, I want to cut off his head. But with what to cut, I found scissors. I tried to cut it with scissors, but of course the chicken, I couldn't catch the chicken. I took it under my seat and tried to cut it. I couldn't cut it, the  chicken escaped my hand. Our first surgery was unsuccessful. But I always wait like this. Here if I cut a frog, should I cut a frog? Here I sometimes catch worms, does it have a brain or not?
I'm in the 2nd grade, here I am 6 years old then. We have neighbors, baker Salih Aga, Salih Akyüz. And he has a wife, they call him Ulvi Aunt. She is also called Gulfem. One day, he said, " Ya İsmail Hakkı, our chicken swallowed a needle ". "Hah," I said, "I just got the opportunity." "Can you operate on him?" said. "I will" I said. But I have experience, I  need an assistant. Because my first case failed due to lack of assistants. I said, "Aunt Ulviye, you hold the chicken". "So how did it happen?" He said, there is a needle that fell from his hand while sewing something, and there is a thread at the end of the needle. In the meantime, the chicken was collecting something and the thread of that needle passed into its mouth. swallowed. He swallowed the needle as well. Here I said "I get it", " he should be on his crop"". I said, "You keep the chicken, bring me a razor". Because I understood that this is not possible with scissors. He brought me a razor, I held it, I said, "Hold the chicken tight". He is my first assistant . And help her up her crop. I look today, I was right. I mean, I split vertically, not transfer. Because it holds better if you cut it through your muscles. I opened it and cleaned the crop. I took the needle out. That's all the thread behind the needle. I also sewed with that thread, the chicken was healed. And after that I got my first gift. Or, so to speak, I took my first bribe from surgery. The chicken's eggs are starting to come to me .
Years later, Aunt Ulviye, who was my first assistant, her grandson graduated from the faculty. He came to me and said, "Sir, I want to go into neurosurgery." I didn't know  that she was the granddaughter of Aunt Ulviye. Then he took the test. He won the challenge. Later, when he said who are you, he said, "here is my aunt". In this way, I have paid my debt to him somewhere. By taking my grandson with me as an assistant . Çetin Refik Kayaoğlu is also a professor. Retired, professor of neurosurgery. May Allah give him long life.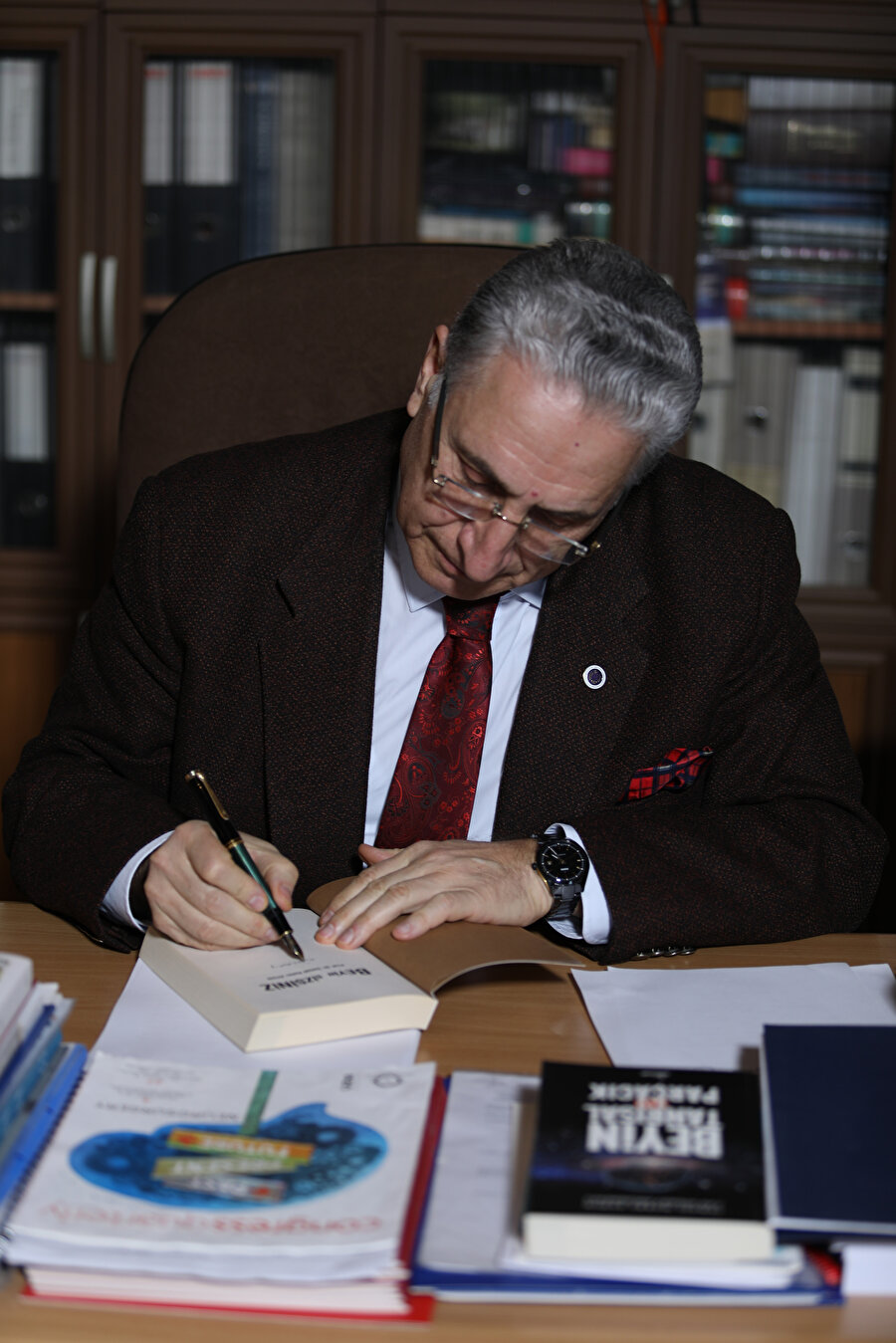 You find a surgical technique and you receive an award from TUBITAK. Let's listen to this process from you…
My teacher, Mahmut Gazi Yaşargil, developed a surgical method for cerebrovascular occlusions. Because Mahmut Gazi Yaşargil is a person who made a revolution in the history of neurosurgery, closing an era and opening another. In fact, neurosurgery is divided into two as ' Before Yaşargil / After Yaşargil '. So, while I was doing research in Zurich, of course, we were working in rats first, we were working in  a small millimeter of veins. Then first we do the fly, then the fly side, side side and so on. And we make about 12-14 stitches in a millimeter of vein. In other words, those threads are much, much thinner than a hair strand. We're already doing it with a microscope. But these should be open after the operation, that is, they should not be blocked.
Of course, you operate on hundreds of animals to perform that surgery so that the skill can develop. I mean in dogs, cats, mice. Let your dexterity develop so that you can do it. But the problem is not so much at the end, but at the  end you have difficulty in sewing the back wall . Now, we can see the front part of it easily under the microscope,  we sew it easily, we put at least 7 stitches  there. We're going to throw 7 of them back. To throw it back, of course, you have to turn it under the microscope. To see behind. However, each twisting injures the inner wall of the vessel at a microscopic level.
I thought, I moved, how can we do it. Of course, it decorates my dreams. How can we do this? How can we make it the front wall? Then I have a dream that dream has a very important place in the history of science. One day I am operating a mouse in my dream. And I keep turning it back and forth. Every time I turn it, I see that the back wall is torn. I see this in my dreams. Then I say 'that's why it is blocked because of this'. So there is damage. Of course, we also conducted an electromicroscope study and confirmed it. We didn't just act on the dream.  And I said, how can we make the back wall the front wall? In one position.
Then I thought, under the influence of that dream. That notch, I made a tiny notch on the glove finger. I brought the glove piece and I put the end of this anastomosis vein there. And it hasn't fallen in front of me yet. The back wall became like the front wall . And when we did it this way, we achieved 90 percent clarity. We saved it. And in the end, I said this to Gazi teacher, 'my teacher is like this'. 'Very well, well done,' he said. 'You thought of it, make sure to write it down'. Of course, I didn't see that as a big deal. We wrote. And this was accepted in the literature as ' A New Technic '.
Turgut Özal also has an influence on you, right?
His story is also interesting. The late Özal  came to Switzerland in 1984, when he was the Prime Minister. He came with Ms. Semra. They went to Gazi Yaşargil. I was at the clinic. His secretary called me and said, 'Yaşargil is calling you'. It is dangerous to call Yaşargil. The brush will throw, you made a mistake. So I was afraid Yaşargil will throw a brush, fire or what will he do. I ran excitedly and got down to Yaşargil's room. We had a 15-20 second meeting with the late Turgut Özal. I think Kaya Toperi was   also with him, the deceased.
After some time, Kaya Toperi told me about it. Özal is going to America, he is going to Houston. There is İsmet Karacan, you know. He goes to him and says, "What is this?"  The internet had just emerged then, the year 1990. He was also saying, "This is how it is, you have the opportunity to see how much work there is in the world from here". "Who are our researchers," he says. "Let's see," he says. Of course, by the way, it is an advantage that my surname is Aydın. Aydın comes first. When Aydın comes out as İsmail Hakkı, he says "Look what's this". The deceased Turgut Özal does not know me. He's seen it in the thing though, but he doesn't know it's me. Then he says "What did he do". "This is how he made this vein," reads the article from there to  İsmet Karacan. That's how he did it, he's interested when he says he did it like this.
When he came to Turkey, that's when  Mehmet Yazar was the Minister of State in charge of TÜBİTAK . The President says "How do you choose". "This is how it is, universities offer it". Here, "researchers, we give awards to". Özal also said, " Can't I propose ". "Of course you are the President". "My candidate is İsmail Hakkı Aydın," says Özal. I do not know. They write to me so that you send your publications. But meanwhile, there is a news in the press that TÜBİTAK is creating a science pool. Articles will always be collected there. There is such news. When such an article comes to me, I say I guess they wanted our publications for that catalog, that is, for that science log. I am preparing the file and sending it. Time passes, I have no idea that I will receive the TÜBİTAK award.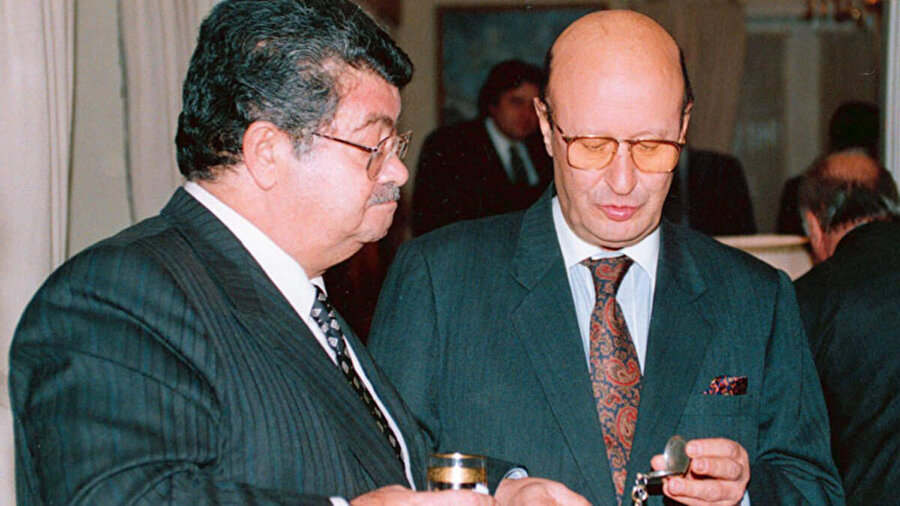 I am invited to Ljubljana for a surgery  . The year is 1990. And then, of course, there were no cell phones. I am talking on the phone one day, I am looking for my wife. What's up. " I want my present ," She told me . "What good news" I say. "I don't want a small thing like that, it's great good news". "And what is it?" She says, " You have received the TÜBİTAK award ". I said "Go" or "TÜBİTAK award…" There is no such application. The university has to offer you. In other words, the Council of Ministers has to propose, the President or something. "Not possible," I said. "Wrong". "Oh," he said, "everyone congratulates him. I watched it on TV," he said. I had a hard morning.
What should I do now? I need to call TÜBİTAK. It was morning and I immediately called TÜBİTAK. Of course, I did not introduce myself there. I said, "I want to know who received the TÜBİTAK awards". They immediately connected me to public relations and stuff. Here they are counting when they say this in physics, I don't know, this in engineering, this in chemistry and so on. When it comes to medicine, İsmail Hakkı Aydın, from where, Atatürk University. Of course, when İsmail Hakkı was mentioned in neurosurgery, I hung up the phone. I don't need to listen anymore. Then we came to get the award.
I established Turkey's first Microneurosurgery Laboratory and Closed Circuit Television System
In 1984, you became the Head of the Department of Neurosurgery at Atatürk University. What firsts did you achieve there?
That's right, I'm coming to Atatürk University Neurosurgery  in 1984. Since I went abroad on a state scholarship, there was compulsory service. And I prefer Atatürk University, I stay there. And I am establishing the  Microneurosurgery Laboratory there first. At that time, it was nowhere in Turkey. So here I am setting up a Microneurosurgery Laboratory to operate on mice, to teach our assistants how to operate with a microscope. And in all the work I trained after that, be it professors, associate professors, specialists or assistants. They all study there. Of course, I have trained thousands of doctors, associate professors, neurosurgeons, professors. Almost all of them study there.
And in 1985, I  am setting up the closed-circuit television system for the first time in Turkey. By connecting from the operating room to the rooms in the clinic, to the assistant's room, to my room, for example, I can watch my assistants in my room while they are operating outside. Patient owners, assistants, students can monitor all surgeries. And I first established it in Turkey in 1985. And we recorded all the major surgeries on  video. Then we transferred them to CDs, DVDs. In fact, we show some of them at international congresses around the world, when I give conferences in different countries. That's how these surgeries are done.
NEUROSURGERY IS A DOPE BRANCH. BRAIN SURGERY IS ADDICTIVE TO ITS FOLLOWERS LIKE DRUGS. AND THERE IS NO CURE FOR IT IN THE WORLD
Sir, you have signed more than 200 scientific studies and you have received dozens of international awards. Do you say 'I am happy with where I am today'?
I do not regret it. So, as I just said, if I had a thousand lives, each of them a thousand years, I would give them all to neurosurgery. Because neurosurgery is a drug branch. Brain surgery is addictive  to its followers, that is, to those who enter that path, like a drug . And there is no cure for it in the world. Once you get into this business, the addiction will continue for life. In other words, it is neither similar to alcohol addiction nor similar to substance addiction. This is interesting and we are happy with it.
You are touching the most sacred organ of man, the most honorable creature ever created. The brain is the greatest blessing that Allah has bestowed upon mankind. In my opinion, the first question to be asked is why didn't you use your brain? Seventy percent and eighty percent of the verses in the Holy Quran are 'How little do you think', 'Do you not think?', 'Do you not reflect yet?' it ends. Why don't you think, why don't you produce ideas, why don't you produce projects, why don't you connect the past with the future, why don't you have a utopia, why don't you shape the future, why don't you prevent future problems by looking at the past. That's why neurosurgery is such a profession. Because there is a charm in the brain. The brain attracts us. When it enters the brain, you are in an absolute hope, it has an incredible memory capacity, it has the ability. How many atoms are there in the universe? The atom with the nucleus of the electron… To keep that many atomic numbers of information in this brain. And it does not forget, The brain does not forget. We are the ones  who forget, it is the people who forget.  The brain has a memory, it records everything. For him, the  brain is the most sacred organ of Allah. It is the greatest blessing to people. If a person uses his brain, there is nothing in the universe, I am not saying in the world, there is nothing he cannot do in the universe, he cannot do whatever he imagines.
I wrote 7 poetry books, I am interested in music and calligraphy.
You have dedicated your life to science, but you also have a great effort for art, don't you?
Dealing with the brain is already an art. Because the brain is  a marvel of art. So now you're thinking, 100 billion neurons make 2 to the 100 billion connections between themselves. And they don't touch each other and we call it ' Beautiful Brain '. It reveals its most beautiful form. And interestingly, the communication of neurons among themselves is 10 to the 16th operations per second. Do you know what this means? You're going to multiply 10 by itself 16 times, that's how many seconds it takes. We are not aware of some of this. But the brain is aware of it. When you open that surgery, you can  see the dance of blood cells  in the veins. You see. You feel. In other words, when you see that hair-like, finer veins than hair, that harmony of those roads, that harmony, that art, that beauty, that creator embroidered the masterpiece of art there, you cannot stop yourself from art. You cannot be away.
Yes, I have been writing since I was a child.  I am writing rubai , I am interested in prosody.  I wrote 7 poetry books  and for example my last two books are 'Ya Hay' and Rubaiyat'ı Bircis. It is completely based on prosody and there are rubai meter, ahreb and ahrem meter, which is the most difficult form in  aruz, I used it. And I used Republic Turkish rather than Ottoman Turkish. But as I said, I cannot stay ignorant of art. Because I am dealing with art,  I am making art while performing surgery. Maybe a little unusual, but I wouldn't trade any pleasure in the world for the pleasure I got from  a brain surgery. So, yes, your mother is crying while performing brain surgery, you perform the operation for 15-20 hours, sometimes up to 28 hours. You do not eat, you do not drink tea. You're trying to save that patient. But when the patient shakes your hand and says 'I'm fine' after the surgery, the world is yours. In other words, this cannot be exchanged for any wealth or property of the world. Therefore,  it is not possible to remain ignorant of art.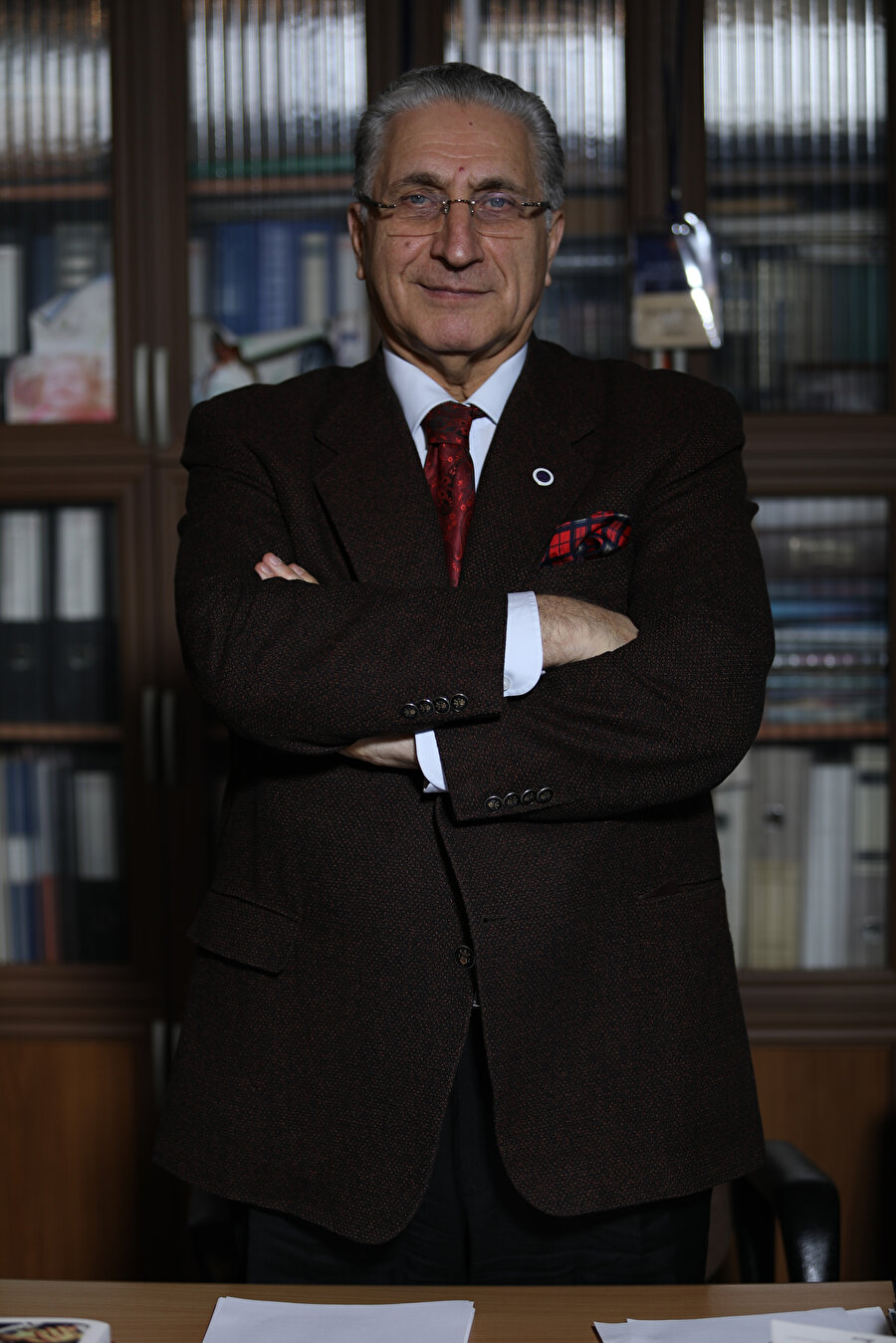 I'm interested in the line, you know. Because my father stood on me a lot about the calligraphy. But there is such a thing in art. Science is the common heritage of humanity. My biggest fear is that I cannot adequately pass on the information in my brain to the next generations. I am afraid that longevity of my life will not be enough. That's why I ask Allahu Teala to give me the opportunity to convey this.
I am also  interested in music. Here are more than a hundred compositions. Here are the poems I wrote. When you don't pass on the information, it is a burden on you. Science is the common heritage of humanity, and art is the common language. Because wealth has zakat, it is to give one-fortieth of it or to give you something other than what you can afford. Science has zakat, it is teaching . That's why I will transfer my science, I will give the zakat of science. I have written so many books, I hope God will give me that opportunity to convey my knowledge, he will give me that opportunity.
The thing is, I never accept modesty in neurosurgery. I'll tell you that. I never accept modesty in neurosurgery. But in art,  art requires humility . The Qur'an is what makes me a scientist  . As I believed in, read, and read the Qur'an, I became a scientist. As a scientist, I read the Qur'an. Biruni says that the reason why I deal with science is the 191st verse of Surat al-Baqara. It is true. I say 'it is the whole of the Qur'an'. Because it is impossible to read the Qur'an and remain ignorant of science. Because every time I read the Qur'an, something new comes to me. Oh, I say, have I never read this verse? I read 'Oh my God' I say. It's like I'm just reading it. In other words, when I read the 47th verse of the last chapter of Hajj, God Almighty, the theory of relativity. Or I read and saw that Allahu Teala is talking about copying. It came 1400 years ago. That's why I turned to science as I read the Qur'an. I do not accept humility in him because the prophet also says 'The ink that comes out of the pens of scholars is better than the blood of those who went to war to spread the religion of Allah and became martyrs . I use a fountain pen for  it . In addition, it is important to always pursue it in natural science and science. Because as long as a person wants to learn science, he is a scholar. That's why it's like that in science. But humility is very important in art. Call the best oud player in the world, he does not say 'I am an oud'. He says, 'Sir, we have seen the oud'…
FOR MORE THAN 40 YEARS IN MY PROFESSIONAL LIFE, I HAVE NOT WRITTEN ANY PRESCRIPTIONS OR URINALYSIS WITH A BALLPOINT PEN TO ANY OF MY PATIENTS. AND I PAY CLOSE ATTENTION TO THE SIGNATURE. THE FOUNTAIN PEN IS SACRED.
I read from what you wrote that you have a fountain pen sensitivity. You have immutable principles that make you who you are. Other than fountain pen, which ones can you talk about?
We are from Trabzon. The people of Trabzon are fond of guns. When I was 8-9 years old, I asked my father for a gun. I said " Buy me a gun ". "Okay son," he said. My father brought me a box in the evening and said, "Here, son, I brought your gun." I opened it and looked it was light. Then I opened it and another box came out. I looked inside and there was a fountain pen. I looked surprised like that. Of course my father is watching. " Son, this is your weapon," he said. And that's when I understood exactly what he was saying.
I believe that ink is sacred and I used a fountain pen throughout my student life. I have always used double fountain pens. In other words, for more than 40 years in my professional life, I have  not written prescriptions or even urinalysis with a ballpoint pen to any of my patients . And I pay close attention to the signature. Because the text is the personality of the signature person. The fountain pen is also sacred. Because the verse says 'know the pen'. Created with pen. It says read and write. That's why it's our constant motto. This pen, one of which is the 'Renegade Hermit ', this is the ' Resentful Client '. I always keep both of them with me. Someone writes black, someone writes blue. I use whatever I want according to my taste.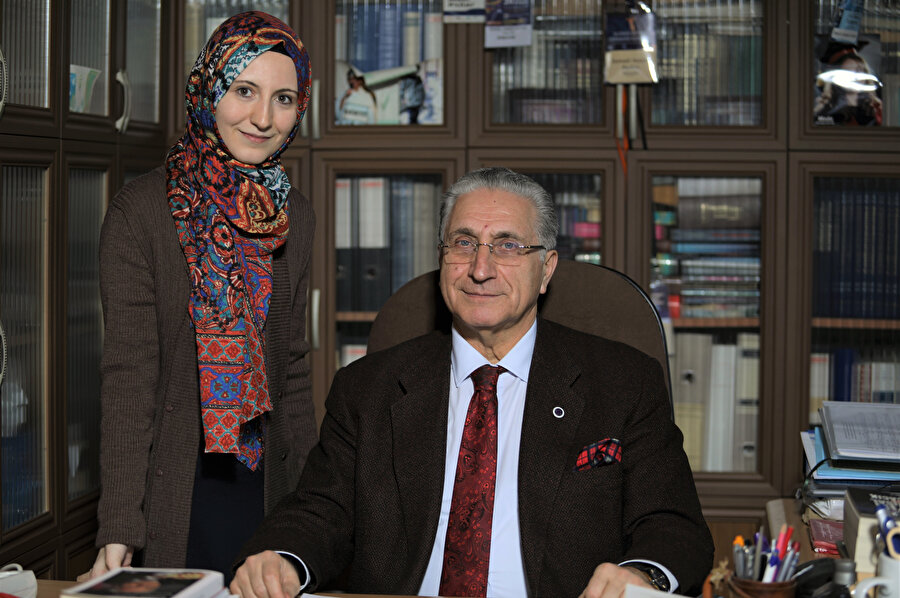 You have many books, but 'Oh These Doctors' and 'Oh These Patients' caught my attention the most. You have performed more than 30 thousand surgeries in 30 years. What are you talking about in these books?
When I said 'Oh these patients', I attributed that book to my patients. Because my patients have a great share in my gaining this experience. So  anatomy labs are where the dead train the living . On the other hand, operating rooms are places where patients train surgeons while they seek healing and cure their problems. Now, if I hadn't done that much surgery, how would I have gained the experience? That's why I dedicated my book 'Oh These Patients' to my patients who have contributed to my experience in neurosurgery and to reach this level.  Yes, there is 'Oh these doctors', there is 'My Lord, Protect Me from the Doctor'. They have an exclamation mark at the end.
Of course, medicine is a very difficult profession. It is not an easy-to-get job. Even today, some tribes in Africa see physicians and surgeons  as representatives of God on earth. We are people who believe in this, healing, trouble and cure are from it. There is no disease that Allahu Teala did not create its cure. Therefore, medicine has such an aspect. Yes, healing is from Allah, and trouble is from Allah, but we are doing this job with the opportunity that he has given in one place. Medicine is a difficult profession. It is a divine profession. He is God's representative on earth. He uses the adjective Shafi. Physician already comes from the referee, comes from the same root. The referee and the physician come from the same root. That's why it's hard to grow. I wrote that book to draw attention to the various abuses and injuries that our physicians are subjected to, but those who looked at his name in the first place thought, 'either these doctors are vilifying'. However, it is a book that tells about what the doctors went through, what kind of training they went through, and how many sleepless nights they had.
FEBRUARY 15, 2020 , SATURDAY