25 years ago. February 1997. Year of Qx
Tsimhatsui, Hong Kong. With my family
1 trillion dollars of world exports of 22 trillion dollars is related to electronic circuits (including GTIP 85.42 chips). A very high rate of 5% in a single quadruple HS total.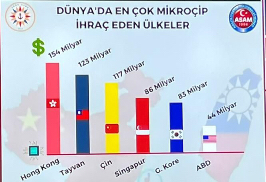 In addition, while Hong Kong ranks first in exports in the ASAM table, these products are actually produced in China and Taiwan.
When Turkey functions as gate of Russia similar to function of Hong Kong to China, Turkey's exports will rise.
We will soon see how much is allowed or not. This is a war game.
With the entry of the Chinese Communists to Shanghai in 1945, the money that escaped from Shanghai fled to Hong Kong.
After that, England created this admirable Hong Kong. The island of Hong Kong was full of empty fields and later equipped with skyscrapers. Underlying this is money flowing from Shanghai to Hong Kong.
I liken this event to the Russia-Turkey relationship.
Anyway,we have to be very cautious in these predictions. We can imagine what things might happen to us.
……………………………………..
25 yıl önce. Şubat 1997
Öküz Yılı, Tsimshatsui, Hong Kong
Ailemle birlikte
22 trilyon dolarlık dünya ihracat hacminin 1 trilyon dolarlık kısmı, elektronik devreler (GTİP 85.42 çip dahil) ile ilgilidir. Tek bir dörtlü GTİP toplamında %5 çok yüksek bir oran.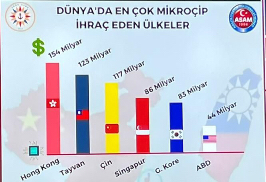 Ayrıca, ASAM tablosunda Hong Kong ihracatta birinci sırada yeralırken, bu ürünler aslında Çin ve Tayvan üretimidir.
Türkiye, Rusya'nın, Hong Kong'un Çin'in dış ticaret giriş/çıkış kapısı olarak işlev gördüğünde Türkiye'nin ihracatı patlama yapacaktır.
Bu olayı Rusya Türkiye ilişkisine de benzetiyorum.
Ne kadar müsaade edilip edilmediğini yakında göreceğiz tabii ki. Bu bir savaş oyunu.
1945 Yılında Çin Komünistlerinin Şanghaya girmesi ile birlikte Şanghay'dan topluca kaçan para olduğu gibi Hong Kong'a kaçmıştı.
Ondan sonra da İngiltere işte bu hayran kalınılan Hong Kong'u yaratmıştı. Hong Kong adası tarlalarla dolu idi ve daha sonra gökdelenlerle donatıldı. Bunun altında yatan Şanghay'dan Hong Kong'a kaçan paradır.
Ama dediğiniz gibi çok temkinli olmak lazım bu öngörülerde. Başımıza ne gibi işler açılabileceğini de tahmin edebiliyorum.