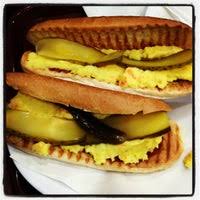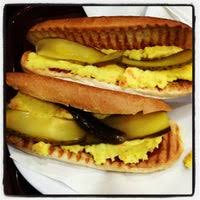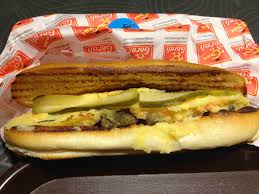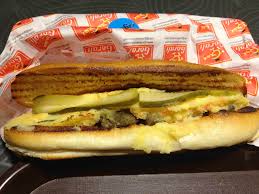 Gorali shop on Fındıkzade Kızılelma Street
Gorali is a type of fast food that started to be made after 1950. It is made from a mixture of diced carrots, mashed potatoes and a small number of peas, resembling a sausage and Russian salad placed between sandwich bread, and served with mayonnaise, ketchup and pickles.
History
Gorali sandwich logo, registered by the Gorali family.
Gora sandwich was first produced by the Goralı family, who came from the Gora region of Kosovo. Gorali family laid the foundations of Gorali sandwich by opening a shop in Kızılay, Ankara, which they named after themselves. The sausages, which were first served as portions, were later served in sandwich bread in 1950 and became a brand in the process. Prominent names from the family were Şefik Gorali and Ferit Gorali. Ferit Goralı immigrated to Istanbul after his military service and opened a shop on Kızılelma Street in Fatih's Fındıkzade district and sold different products besides Gora sandwiches (1961). When he died 30 years later in 1991, his property passed to his children.