Metropolitan Archbishopric of Mocissus
Mocissus was also a Christian bishopric, and became a metropolitan see when, as Procopius (De ædif., V, iv) informs us, Justinian divided Cappadocia into three provinces and made this fortified site in north-western Cappadocia metropolis of Cappadocia Tertia, giving it the name of Justinianopolis. Nothing else is known of its history, and its name should perhaps be written Mocessus. There is no doubt that the site of Mocissus, or Mocessus, is that which is occupied by the modern city of Kırşehir. It figured in the Notitiæ episcopatuum until the 12th or 13th century.
Uğur Mumcu, investigative journalist
Nezaket Ekici, artist
Muharrem Ertaş, folk musician
Şemsi Yastıman, folk musician
Neşet Ertaş, folk poet
Ahi Evren, preacher – died in Kırşehir
Caca Bey, astronomer
Asik Pasa, preacher, Turkish poet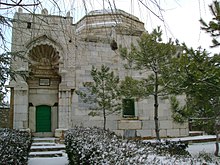 https://en.wikipedia.org/wiki/K%C4%B1r%C5%9Fehir
Şeyh Edebali: He was born in 1208 in İnaç Village of Mucur district of Kırşehir province. He is the father-in-law of Osman Bey, the founder of the Ottoman Empire. His real name is Mustafa. His tag, İmadüddin Mustafa b. Abraham b. It is İnac el- Kırşehri. After completing his primary education in Kırşehir, he went to Damascus. After completing his education on hadith, fiqh, tafsir, the Qur'an and mysticism, he returned to Kırşehir. He established a lodge in Bilecik. He died in 1348 at the age of 125. His tomb is in Bilecik. Osman Gazi, the material founder of the Ottoman Empire, was Sheikh Edebali, the spiritual founder. His will to Osman Gazi and his will to Osman Gazi's son Orhan Gazi are a beautiful expression of the Ahilik philosophy that formed the leaven of the Ottoman Empire. Sheikh Edebali, who is the leader of the Ahi, is also the first kadi and mufti of the Ottoman Empire.
https://kirsehir.ktb.gov.tr/TR-195637/seyh-edebali.html
KIR-SHEHER, the chief town of a sanjak of the same name in the Angora vilayet of Asia Minor, situated on a tributary of the Kizil Irmak (Halys), on the Angora-Kaisarieh road. It is on the line of the projected railway from Angora to Kaisarieh. The town gives its name to the excellent carpets made in the vicinity. On the outskirts there is a hot chalybeate spring. Population about 9000 (700 Christians, mostly Armenians). Kir-sheher represents the ancient Mocissus, a small town which became important in the Byzantine period: it was enlarged by the emperor Justinian, who re-named it Justinianopolis, and made it the capital of a large division of Cappadocia, a position it still retains.
https://en.wikisource.org/wiki/1911_Encyclop%C3%A6dia_Britannica/Kir-Sheher