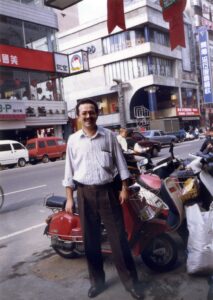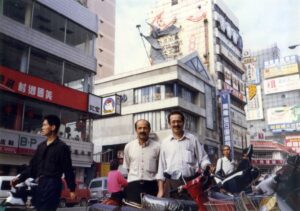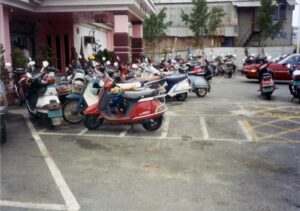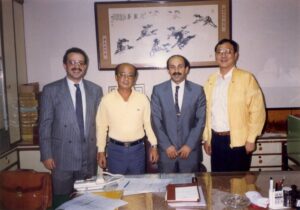 Taipei, Taiwan ROC, 1989
Economic Complexities of the Countries 1995-2020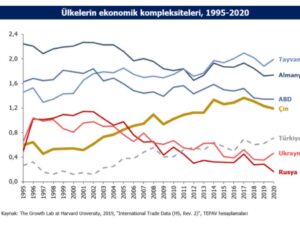 Source: Tayvan, Ukrayna olur mu? Güven Sak Prof Dr
These four countries are strangely related to each other.
Neon: 90% of annual neon gas production is met by Ukraine.
Palladium: Russia provides 40% of the world's palladium production.
Silica sand: The world's largest supplier is China.
Although they seem to be independent of each other, the above products, which are almost monopoly of these three countries, are the raw materials used in the production of 'CHIP' in Taiwan.
As you know, chips are indispensable for all electrical – electronic products…
Taiwan is the world's largest manufacturer of chips, which are indispensable for all new generation electrical and electronic products, from electric cars to mobile phones, from computers to refrigerators, from cameras to televisions.
For now, they have enough stock to produce chips for 6 months. However, Taiwan is currently considering changing its biggest buyer: the USA instead of China.
Here is where problem happens.
Because Taiwan uses 156 thousand tons of clean water per day in chip production.
Taiwan is a water poor country…
If China does not supply 156 thousand tons of water per day, Taiwan will be unable to produce chips.
Let's round up:
Ukraine produces the raw material of ultraviolet rays used in chip production.
Russia produces palladium, which is the catalytic converter of chips used in automobiles.
China produces silica sand, the raw material of quality silicon.
The USA, which is struggling to have a monopoly on the chip, is making a chip deal with Taiwan in order to minimize China's share in the world trade market. According to this agreement, Taiwan will reset its chip sales to Hong Kong and halve the amount of chips it sells to China. Therefore, it would create as much stock of chips as it could sell to the US.
That's why he minimized neon production by fueling Ukraine in the Ukraine-Russia conflict.
In short, he is trying to bring both Russia and China to heel.
Therefore, it is optimistic to expect the Ukraine-Russia conflict to end in the near future.
Just like believing that the China-Taiwan conflict will not happen…
The conflict, which could go back to the World War anyway, will take its place in history not as the 3rd World War, but as the "Chip Wars"… (Source: ITU Electronics Engineer)
………………………………………..
We should chip together with Taiwan
Water energy siliceous sand land building allocation from us. it's time
The late Sencer Hodja knew Taiwan well, there was no contact left when he left
We should start a close relationship with Taiwan.
Historian Konuralp Ercilasun has a PhD from Taiwan
We have Taiwan Trade Office in Taipei
http://taipei.to.mfa.gov.tr/Mission
TSMC
Largest government company in the world
There is a Chinese blockade and a lack of water
Turkey needs a partnership offer
The Netherlands and Germany produce 5 mm chip machines. There is a ban on sales to China.
5mm strategic
Yes, now 5 mm and below will make a difference
Taiwan?
Taiwan produces Samsung and the USA
Taiwan Korea USA
China doesn't have EUV machines yet
Yes
Do we manufacture chips
Ermaksan and TUBITAK at a very basic level
But we are not in the market
Source: Kemal Üçüncü Prof Dr.
Taiwan's critical importance for modern technology
Taiwanese companies' share in chip final production is 77.3%
Its share in microchip packaging and testing is 57.7%
20.1% share of global microchip design turnover
Taiwan TSMC company's strength in the global microchip market is 55%
Source: ASAM
……………………………………………………………………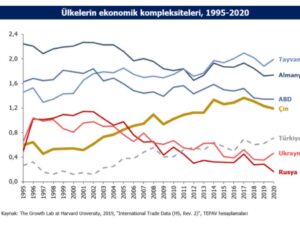 Kaynak: Tayvan, Ukrayna olur mu? Güven Sak Prof Dr
Bu dört ülkenin garip bir şekilde birbiriyle ilişkisi var.
Neon: Yıllık neon gazı üretiminin % 90'ını Ukrayna karşılıyor.
Palladyum: Dünya paladyum üretiminin % 40'ını Rusya karşılıyor.
Silika kumu: Dünyanın en büyük tedarikçisi Çin.
Birbirinden bağımsız gibi görünse de, bu üç ülkenin neredeyse tekel konumundaki yukarıdaki ürünler, Tayvan'da 'ÇİP' üretiminde kullanılan hammaddeler…
Bildiğiniz gibi çip, elektrikli – elektronik tüm ürünlerin vazgeçilmezi…
Elektrikli arabadan cep telefonuna, bilgisayardan buzdolabına, fotoğraf makinesinden televizyona aklınıza gelen tüm yeni nesil elektrikli – elektronik ürünlerin olmazsa olmazı çiplerin dünyadaki en büyük üreticisi Tayvan…
Şimdilik ellerinde 6 ay çip üretebilecek kadar stokları var. Ancak Tayvan, bu aralar en büyük alıcısını değiştirmeyi düşünüyor: Çin yerine ABD…
İşte dananın kuyruğu burada kopuyor.
Çünkü Tayvan çip üretiminde, günde 156 bin ton temiz su kullanıyor.
Tayvan su fakiri bir ülke…
Çin günlük 156 bin ton su vermezse, Tayvan çip üretemez konuma düşecek…
Toparlayalım:
Ukrayna, çip üretiminde kullanılan ultraviyole ışınların hammaddesini üretiyor.
Rusya özellikle otomobillerde kullanılan çiplerin katalitik dönüştürücüsü olan paladyumu üretiyor.
Çin, kaliteli silikonun hammaddesi silika kumunu üretiyor.
Çip konusunda tekel olma derdine düşen ABD, özellikle Çin'in dünya ticaret pazarındaki payını en aza düşürmek için Tayvan'la çip anlaşması yapıyor. Bu anlaşmaya göre Tayvan, Hong – Kong'a çip satışını sıfırlayacak, Çin'e sattığı çip miktarını da yarı yarıya düşürecek. Dolayısıyla ABD'ye satabileceği kadar çip stoğu ortaya çıkaracaktı.
Bu yüzden Ukrayna – Rusya çatışmasında Ukrayna'yı gaza getirerek neon üretimini minimize ettirdi.
Kısacası, hem Rusya'yı ve hem de Çin'i dize getirmeye çalışıyor.
Bu yüzden, Ukrayna – Rusya çatışmasının yakın tarihte bitmesini beklemek iyimserliktir.
Tıpkı Çin – Tayvan çatışmasının çıkmayacağına inanmak gibi…
Zaten Dünya Savaşı'na kadar gidebilecek çatışma, tarihte 3. Dünya Savaşı olarak değil, 'Çip Savaşları' ismiyle tarihte yerini alacak… (Kaynak: İTÜ Elektronik Mühendisi)
………………………………………..
Tayvan ile birlikte çip yapmalıyız
Su enerji silisli kum arazi bina tahsisi bizden. Tam zamanı
Rahmetli Sencer Hoca iyi bilirdi Tayvanı irtibat kalmadı o gidince
Tayvanla sıkı bir ilişki başlatmalıyız.
Tarihçi Konuralp Ercilasun Tayvandan doktoralı
Tayvan Ticaret Ofisimiz var Taipei de
http://taipei.to.mfa.gov.tr/Mission
EN büyük dünyada devlet şirketi
Çin ablukası ve Su yetersizliği var
Türkiye'nin ortaklık teklifi lazım
5 mm çip makinelerini Hollanda ve Almanya üretiyor Çin'e satış yasağı var.
5 mm stratejik mi
Evet artık 5 mm ve altı fark yaratacak
Tayvan?
Tayvan üretiyor Samsung bir de ABD
Tayvan Kore ABD
Çin henüz EUV makinelere sahip değil
Evet
Biz çip üretiyor muyuz
Çok basit seviyede Ermaksan ve TÜBİTAK
Ama pazarda yokuz
Kaynak: Kemal Üçüncü Prof Dr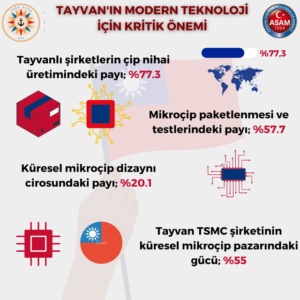 Tayvan'ın modern teknoloji için kritik önemi
Tayvanlı şirketlerin çip nihai üretimindeki payı %77.3
Mikroçip  paketlenmesi ve testlerindeki payı %57,7
Küresel mikroçip dizaynı cirosundaki payı %20.1
Tayvan TSMC şirketinin küresel mikroçip pazarındaki gücü %55
Kaynak: ASAM
Auto Amazon Links: No products found.